Vietnamese vaccine passport accepted by 14 countries and territories
VGP - As of February 16, 14 countries and territories recognized Viet Nam's vaccine passport, Foreign Ministry Spokesperson Le Thi Thu Hang told reporters on Thursday.
February 18, 2022 10:10 AM GMT+7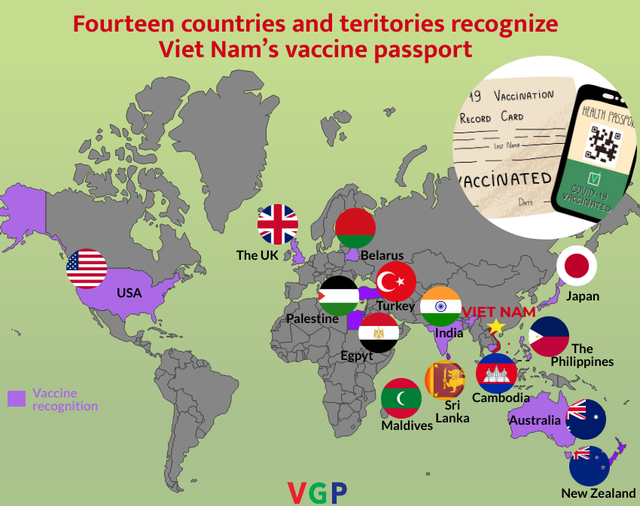 The four new countries are Egypt, New Zealand, Sri Lanka and Turkey.

Earlier, Australia, Belarus, Cambodia, India, Japan, Maldives, Palestine, the Philippines, the U.K. and the U.S. had accepted Viet Nam's vaccine passport.
Meanwhile, Viet Nam has recognized vaccine passports of 79 countries and territories. Thanks to vaccine passport recognition, since January 1, 2022, fully vaccinated international arrivals with negative COVID-19 RT-PCR test results are required to self-quarantine at home or their places of accommodation for three days when they enter Viet Nam.
The Government of Viet Nam has decided to resume international tourism from March 15.

The country already lifted curbs on international flights from February 15, 2022, with 19 regular air routes having been restored to Japan, the RoK, China, Chinese Taipei, Singapore, Thailand, Cambodia, Laos, Australia, Germany, Russia, France, the UK, the U.S, Hong Kong, Malaysia, Turkey, Qatar, and UAE.
Since international flights were resumed from January 2022, the number of international arrivals to Viet Nam reached over 103,000 in January and 153,000 by late February 14.