Vietnamese sportsmen ready for medals at Asian Games
VGP — Viet Nam has left for the 19th Asian Games with high determination and careful preparation to bring best results home.
September 21, 2023 11:36 AM GMT+7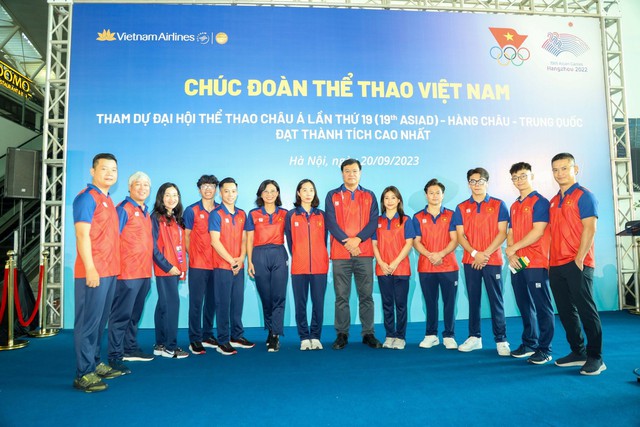 The main delegation gathering members of swimming, boxing and gymnastics teams will be the first Vietnamese athletes checking in the Athlete Village in Hangzhou City.

The other teams will leave in the next few days following their competition schedule.
"Our preparation process for the Games is really challenging but now everything is done," said Viet Nam Chief-de-mission Dang Ha Viet.
"All athletes are ready and we understand our responsibility when taking part in the Games. On behalf of all members, I promise that we will try our best to compete with confidence and creativity for highest results.
"Each member will be an ambassador to spread Viet Nam's friendship and beautiful images to international friends. At the same time, they will help strengthen solidarity and cooperation between countries in the continent," he said.
Taking part in this Games, Viet Nam has 504 members including 337 athletes, 90 coaches and 11 experts. They will compete in 31 out of 40 sports.
The team target to win up to five gold medals which are predicted to come from cycling, weightlifting, karate, shooting, sepak takraw, archery and Chinese chess.
According to Chief-de-mission Viet, other sports such as athletics, chess, table tennis, boxing, wushu, swimming, gymnastics, judo and taekwondo also had chance to vie for medals in this Games.
Swimmer Nguyen Huy Hoang and taekwondo martial artist Bac Thi Khiem are Viet Nam's flag bearers at the opening ceremony.
"My teammates and I have practiced well for the Games. We will bring Viet Nam spirit into our games and try to secure wins for the national pride," said Khiem.
"We will strictly follow the Games' regulations and rules and will play with honesty, nobility and creativity to achieve success for the development of Vietnamese sports."
Gymnast Nguyen Van Khanh Phong said he was a little nervous when taking part in the Asian Games for the first time. But the Asian silver medalist determined to make it an unforgettable debut.
Currently, the men's and women's football teams and rowing team are taking part in their competitions. These are two of several sports organised before the opening ceremony.
The Viet Nam's flag raising ceremony will be held on September 22. It is an important protocol to mark the presence of countries at the continent's largest sports festival.
The 19th Asian Games will be open on September 23and wrapped up on October 8./.