Vietnamese Prime Minister's remarks at the World Bio Summit 2022
VGP - Vietnamese Prime Minister Pham Minh Chinh gave a recorded speech at the first World Bio Summit on October 25 under the theme of the future of vaccine and bio health.
October 26, 2022 7:15 AM GMT+7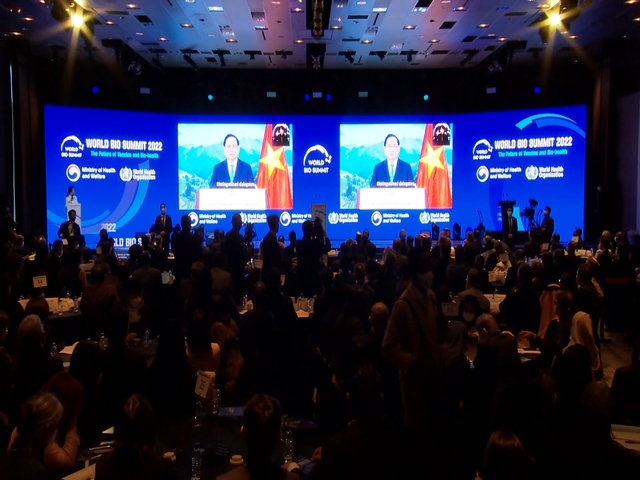 In his speech, Prime Minister Pham asserted that "the COVID-19 pandemic has spread to every region, causing heavy and comprehensive impacts on all countries. In the fight against the pandemic, we can see more clearly the critical importance of vaccination than ever".
The Prime Minister said that Viet Nam has taken measures to prevent and control the pandemic with the global approach, strengthen international solidarity, uphold multilateralism and pursue people-centered approach. Particularly, Viet Nam has successfully implemented vaccine diplomacy and the largest-ever free vaccination campaign.
So far, the pandemic has been basically put under control in Viet Nam, creating a foundation for socio-economic development, quick recovery and sustainable development. In the first nine months of the year, the macro-economic performance was basically stable, inflation was controlled by 2.73 percent, GDP growth rate reached 8.83 percent which is the highest pace since 2011.
On behalf of the Government, the Prime Minister showed appreciation to international friends, including the Republic of Korea, for their support for Viet Nam in terrms of vaccine, equipment, medical products in the most difficult times.
He highlighted that "The COVID-19 pandemic and the recent global health crisis have shown the importance of vaccine and biotechnology in taking care of people's health; protecting their lives; improving national response capacity to epidemics that may appear unexpectedly and develop in complicated ways ".
He suggested that with foresight-based vision and in the interest of a better, more inclusive and developed world, we should unite and join hands to consildiate, develop and share resources in order to research on vaccine production, build an advanced biomedical science, develop modern medicine to effectively respond to different diseases.
At the same time, it is necessary to ensure a fair and justice approach to vaccines and medical products which care for and protect people's health across the globe.
According to the Prime Minister, over the past years, Viet Nam has paid attention to invest in vaccine researches and production, disease prevention products and develop medicine sector. Viet Nam hopes to get assistance from its partners incluidng the Republic of Korea.
As an active and responsible member of the international community, Viet Nam commits to closely and effectively coordinating with international partners in vaccine research and production, technology transfering, contributing to stabilizing the supply chain of vaccines and other healthcare products across the globe, he finalized.
The first World Bio Summit is hosted by the Government of the Republic of Korea in collaboration with the World Health Organization to gather leaders of the vaccine and biotechnology industry to discuss innovations and ways to strengthen global health security on October 25-26.
The event was attended by some 300 figures who are government officials from a couple of dozen countries, representatives from global organizations and multinational pharmaceutical companies.
The leaders of global pharmaceutical powerhouses -- Afrigen, Biovec, Merck, Moderna, MSD, Pfizer, Shinogi and SK Bioscience -- discussed future strategies for the post-pandemic era in a CEO's session chaired by Jerome Kim, Director General of the International Vaccine Institute./.