Vietnamese PM, Chinese President meet in Shanghai
VGP – Vietnamese PM Nguyễn Tấn Dũng, who is in Shanghai for the Expo 2010, today had a meeting with Chinese Communist Party General Secretary, State President Hu Jintao.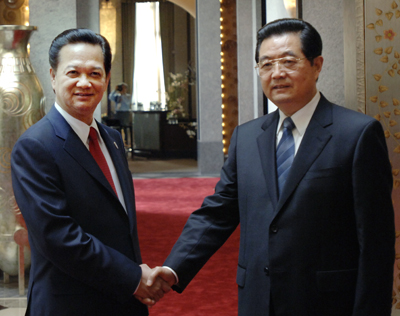 Vietnamese PM Nguyễn Tấn Dũng (L) and Chinese Party General Secretary-State President Hu Jintao, Shanghai, April 30, 2010 – Photo: VGP/Nhật Bắc

Both PM Nguyễn Tấn Dũng and President Hu Jintao confirmed that Việt Nam and China are close neighbors who boast for their 60-year friendship and cooperation.

The leaders underlined the significance of the Việt Nam–China Friendship Year 2010 while showing their pleasure at new important advancements of the strategic partnership for comprehensive cooperation.

They were pleased with the completion of the demarcation in the Tonkin Gulf and border landmark planting.

They reached unanimity in continuing friendly negotiations and dialogues to obtain proper solutions for issues relating to the

Eastern Sea

.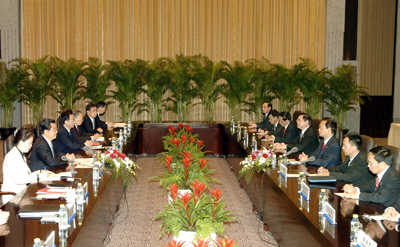 Top leaders of China (L) and Việt Nam (R) hold talks, Shanghai, April 30, 2010 – Photo: VGP/Nhật Bắc
The leaders agreed to apply practical measures to further cement and deepen the bilateral cooperation.
Accordingly, the two sides will maintain and increase high-ranking visits and meetings; promote exchanges at ministerial and local levels; and enhance cooperation in economics, trade, investment, culture, education and tourism.
The two sides will strive best to earn a two-way trade turnover of US $25 billion this year and reach the five-year plan for economic and trade development between Việt Nam and China and a bilateral agreement on monetary exchange.