Vietnamese, Dutch Prime Ministers attend Green Economic Forum in Ha Noi
VGP – Prime Minister Pham Minh Chinh and his Dutch counterpart Mark Rutte on November 2 attended the Green Economic Forum in Ha Noi as part of the latter's two-day official visit to Viet Nam.
November 03, 2023 10:40 AM GMT+7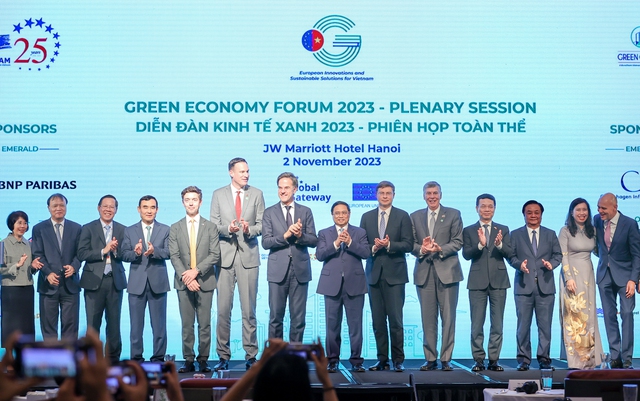 In his remarks, Prime Minister Rutte said this is special time in the relations between Viet Nam and the Netherlands as both countries celebrate the 50th founding anniversary of their diplomatic ties (1973-2023).
Rutte, however, noted that the bond between the two countries dated back dated back to more than 400 years ago when Dutch vesels first came to Hoi An port in central Viet Nam.
Today, the Netherlands is the biggest EU investor in Viet Nam while around 60 percent of Viet Nam's exports to Europe come ashore at the port of Rotterdam, said the Dutch Prime Minister.
Hailing Viet Nam's rapid economic growth, Rutte said both Viet Nam and the Netherlands are facing environmental challenges, requiring the joint efforts of all stakeholders, first of all the business community, adding that the governments enact policies but private sector will determine the success of such policies.
He said that more than 44 Dutch enterprises attended the Green Economic Forum held in Ho Chi Minh City last year, indicating their wish to cooperate with international partners in addressing global challenges.
During the onoging visit, Rutte is acompanied by a delegation of 30 high-tech companies, many of them are embarking on investment projects in Viet Nam while several others are exploring opportunities in the Southeast Asian nation.
Prime Minister Rutte asked Dutch companies to assist Vietnamese counterparts in complying with the EU's new regulations on sustainable production.
For his part, Prime Minister Pham said this year's forum indicates the EU's continued determination and support for green growth in Viet Nam.
He affirmed that Viet Nam always regards the EU one of the trusted and important partners in its foreign policy, and commits to protecting the legitimate rights and interests of foreign investors in any circumstances.
Voicing his strong support for the EU's green growth strategies, initiatives and policies, Prime Minister Pham called on the EU to coninue to assist Viet Nam in promoting green growth.
Pham suggested Dutch firms should promptly come up with specific plans to connect with Vietnamese enterprises in hi-tech agriculture, new and renewable energy, semiconductors, climate change adaptation, shipbuilding services, and other sectors via hi-tech projects that offer high added value and are capable to join the global value chain.
He also encouraged Dutch businesses, corporations, and research institutes to consider and actively engage in comprehensive cooperation with Viet Nam through the National Innovation Center and hi-tech zones in the country.