Vietnamese, Chinese officials talk territorial, border issues
VGP - Permanent Deputy Minister of Foreign Affairs Nguyen Minh Vu and Chinese Vice Minister of Foreign Afairs Sun Weidong co-chaired a meeting between the heads of the government-level delegations for negotiations on the Viet Nam-China territorial and border issues in Ha Noi on November 9.
November 10, 2023 9:32 PM GMT+7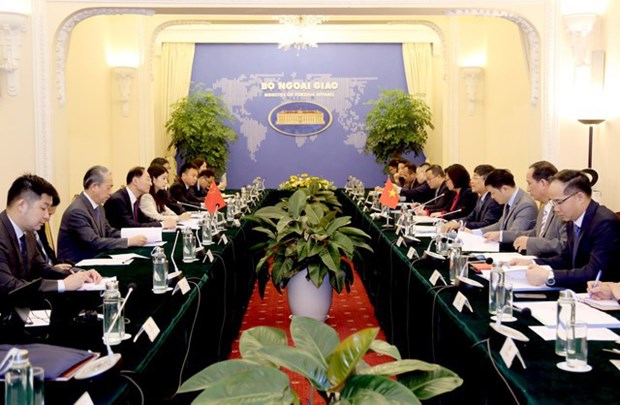 Both sides expressed their delight at the sound development of the Viet Nam-China comprehensive strategic cooperative partnership, particularly since the historic China visit by Party General Secretary Nguyen Phu Trong in October 2022.

They agreed to continue realising common perceptions reached by the two countries' senior leaders in order to advance bilateral substantive cooperation in various fields, and jointly prepare for the 15th meeting of the Steering Committee for Bilateral Cooperation and other important bilateral activities in lead-up to the 15th anniversary of comprehensive strategic cooperative partnership.
They assessed the positive progress in the Viet Nam-China land border management and cooperation according to legal documents, including the effective and smooth operation of the Land Border Joint Committee mechanism, stronger cooperation in building infrastructure and improving transportation connectivity in border areas, and effective pilot operation of the Ban Gioc – Detian waterfalls, demonstrating their determination to create a safe and attractive tourist destination, thus making important contributions to socio-economic development in border areas.
The two sides pledged to continue working closely together in border management and protection in accordance with three legal documents on land border between the two countries and relevant agreements.
They committed to effective collaboration in the opening/upgrading/recognition of border gates, rolling out measures to facilitate customs clearance, cultural and commercial exchanges in border areas, toward building a borderline of peace, friendship, stability, cooperation and development.
On issues at sea, they frankly discussed recent developments in the East Sea. They underlined the importance of continuing to seriously implementing the common perceptions of senior leaders of the two Parties and countries and the Agreement on basic principles guiding the settlement of issues at sea between Viet Nam and China in 2011; and working together to maintain peace, stability, exercise self-restraint and avoid complicating the situation at sea.
The Vietnamese side proposed that both sides really respect each other's legitimate rights and interests, work together to control differences properly, maintain smooth channels of negotiation on maritime issues, and strive to find a fundamental and long-term solution in accordance with international law and the 1982 United Nations Convention on the Law of the Sea (UNCLOS).
Both sides spoke highly of the progress of projects within the framework of cooperation in less sensitive areas, such as release of fish fries and protection of aquatic resources in the Gulf of Tonkin, and the signing of two cooperation agreements on joint work in geological environment and geological disasters in the Red River Delta and the Yangtze River Delta, and integrated management of the marine and island environment in the Gulf of Tonkin.
They also agreed to continue speeding up negotiations on delimitation of waters beyond the mouth of the Gulf of Tonkin, complete procedures and move towards signing an agreement on the establishment of a hotline for contingencies from fishing activities in the waters of Viet Nam and China, and another on Viet Nam-China search and rescue cooperation, and further advance cooperation at sea, particularly in less sensitive areas.
On the occasion, Minister of Foreign Affairs Bui Thanh Son hosted a reception for Vice Foreign Minister Sun, during which he suggested the two ministries work closely together and make thorough preparations for upcoming exchange activities between the two countries.
The two ministries need to actively take creative measures and foster practical coordination in various areas, especially in economy, trade, infrastructure and connectivity of railways and roads, thus facilitating people-to-people exchanges in border areas, Son said.
There should be an emphasis on strengthening coordination in land border management, well controlling differences at sea, contributing to Viet Nam-China friendly and cooperative ties, he said./. VNA