Vietnamese athletes claim first medals at Asian Para Games
VGP — Vietnamese athletes won two bronze medals in the first day of competitions on October 23 at the fourth Asian Para Games in Hangzhou, China.
October 24, 2023 11:16 AM GMT+7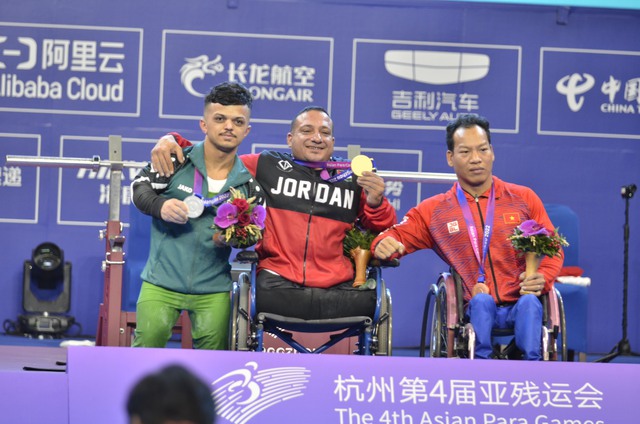 World champion Le Van Cong took third place in the men's 49kg powerlifting class.

Competing with his shoulder injury that reoccurred prior his leave for the tournament, Cong was unsuccessful with a 170kg lift in the first attempt. He increased the weight to 171kg in the second and made it. In the third time, the former Olympic champion succeeded with 173kg, 3kg less than what he did to win gold medal at the world championship in August in the UAE.
He was behind arch-rivals Armada Hamada of Jordan, who took gold with a lift of 182kg, and Al-Sudanic Muslim of Iraq, who was second with 173kg.
"It was hurt and I could not practice since I arrived in Hangzhou. Prior to the competition I even did not know if I could lift the barbell," said Cong who is world and Olympic record holder.
"I thought of giving up but then accepted the pain to compete. I couldn't win the gold and missed the silver, but with this injury, I am satisfied with my result."
The second bronze of Viet Nam went to Nguyen Binh An in the men's 54kg powerlifting category.
The defending champion proved his strength in three attempts with 174kg, 180kg and 184kg, respectively, setting up a new record of the tournament.
However, his rivals, Paralympic reigning champion David Degtyarev of Kazakhstan and 2021 world silver medalist Yang Jinglang of the hosts were excellent.
Yang's best lift of 185kg made An's result former record. Yang earned silver.
Minutes later, Degtyarev beat Yang's record with a new height of 186kg and secure gold.
Although he did not defend his title, An was pleased with the bronze.
"It is my personal best. I have worked hard to prepare for the Games but I am surprised that I could beat the Games record," he said.
"My rivals performed better than me, so I accept the bronze."
Vietnamese athletes will continue with other categories in powerlifting and other sports in the next days.
Opening ceremony
The Asian Para Games officially began with a glittering opening ceremony at the Hangzhou Olympic Sports Expo Center on October 22.
The Games returns to China for the second time following Guangzhou in 2010.
China's Vice Premier Ding Xuexiang declared the Games open at Hangzhou Olympic Sports Centre Stadium.
A total of 43 delegations participate in this Games. As many as 3,000 talented para-athletes, a new record in terms of the number of participants, feature in 566 events across 22 sports.
People with disability participated in every junction of the ceremony from the athletes' parade to the artistic performances to the lighting of the flame.
"Zhejiang Province is working to become a demonstration zone for achieving common prosperity, where every person has the opportunity to shine and realize his or her dream," Wang Hao, president of the organising committee, was quoted as saying on Xinhua News Agency.
"'Hearts Meet, Dreams Shine' is not only the slogan of this Asian Para Games, but also our shared aspiration," the governor of Zhejiang Province noted and extended his warmest welcome to all attendees.
Meanwhile Majid Rashed, president of the Asian Paralympic Committee, expressed his gratitude to the para athletes as saying: "Through your performances, your skill, your strength, your passion, you are showing the world that there is no limit to what can be achieved with determination and courage.
"And this will inspire more young people with impairments to follow in your footsteps and encourage governments to increase their support for people with disabilities. This is the power of the Paralympic Movement and you athletes are at the very heart of it, and here in Hangzhou is the stage, where you can showcase your amazing talents," he said.
Viet Nam sends a team of 71 members including 48 athletes to China.
Vo Thanh Tung and Trinh Thi Bich Nhu were two flag bearers at the opening ceremony.
They will compete in seven sports of athletics, swimming, powerlifting, chess, table tennis, badminton and taekwondo for from three to four golds./