Vietjet honored for 'Viet Nam Brand, Global Impact'
VGP - Budget carrier Vietjet has achieved another major accolade – winning the 'Viet Nam Brand, Global Impact' award under the PR Newswire Awards 2020.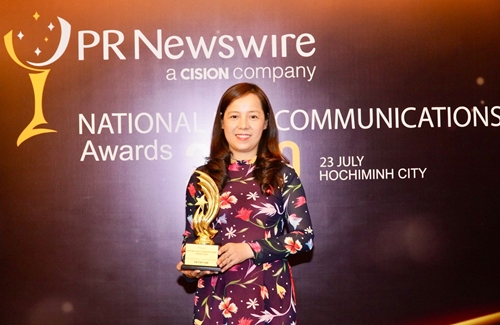 Vietjet Group's Deputy General Director Nguyen Thi Thuy Binh receives the award. Photo: baotintuc
Vietjet was recognised for its achievement as a trailblazer in expanding its flight network and brand name proven by creative, meaningful and inspiring activities across the globe.
The prestigious award is judged by a panel comprising international experts and leaders in the communications and public relations industry.
Speaking at the award ceremony, Vietjet Group's Vice President Nguyen Thi Thuy Binh said to consistently expand its flight network across Asia and boost trade globally, the airline has served as an inspiring ambassador capable of representing Viet Nam to international consumers.
Moreover, the carrier has also greatly contributed to global tourism and economic development, operating over 200 flight routes and transporting over 100 million passengers in the process.
In addition, Vietjet is one of the few enterprises and only Vietnamese carrier that brings its brand beyond the country's border to add more value and inspire others in the international market.
In Thailand, Vietjet has established Thai Vietjet, leveraging the Vietnamese brand name of Vietjet.
The airline has transported more than eight million passengers in Thailand and other countries to famous destinations across the Land of Smiles. It has been welcomed and trusted by the country and people of Thailand.
The 2020 awards is hosted by PR Newswire, a Cision Ltd. Company which is a leading global provider of news distribution and earned media software and services.
It has the world's largest media distribution network, covering over 300,000 media outlets in more than 170 countries and over 40 languages./.
By Hoang Ha