Vietjet and Airbus ink a strategic cooperation agreement for 119 aircraft
VGP - Vietjet and Airbus on November 5 inked a strategic partnership agreement on the delivery timeline for 119 aircraft of the airline's existing backlog and a cooperation for the development of Vietjet's wide-body fleet together with other supporting terms for the airline post COVID-19 period.
November 06, 2021 5:50 PM GMT+7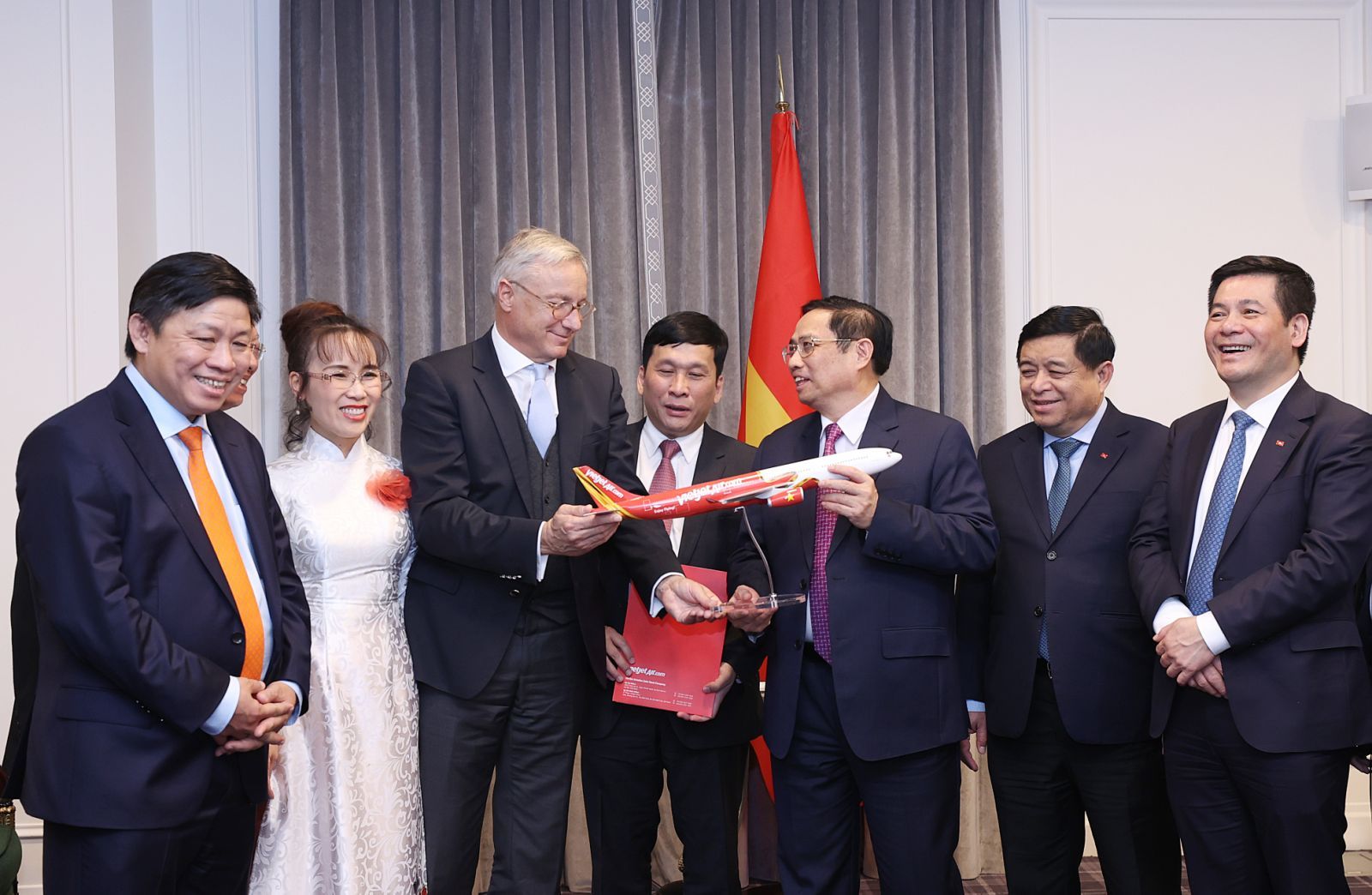 Prime Minister Pham Minh Chinh (3rd, right) and Airbus Chief Commercial Officer and Head of International Christian Scherer (5th, right) at the signing ceremony, Paris, France, November 5, 2021
>>> Viet Nam, OECD sign MoU to strengthen co-operation over next 5 years
Both sides agree on further support and training for the airline's technicians and engineers while accelerating on Vietjet's Training Academy development for simulators, safety management programs, and flight management training, etc.
The agreement's announcement was made during the official visit of Viet Nam's Prime Minister Pham Minh Chinh and high-ranking dignitaries' delegation to France.
Vietjet will take delivery and operate up to three leased A330 aircraft in November as part of the airline's wide-body fleet development plan under its LCC model operation.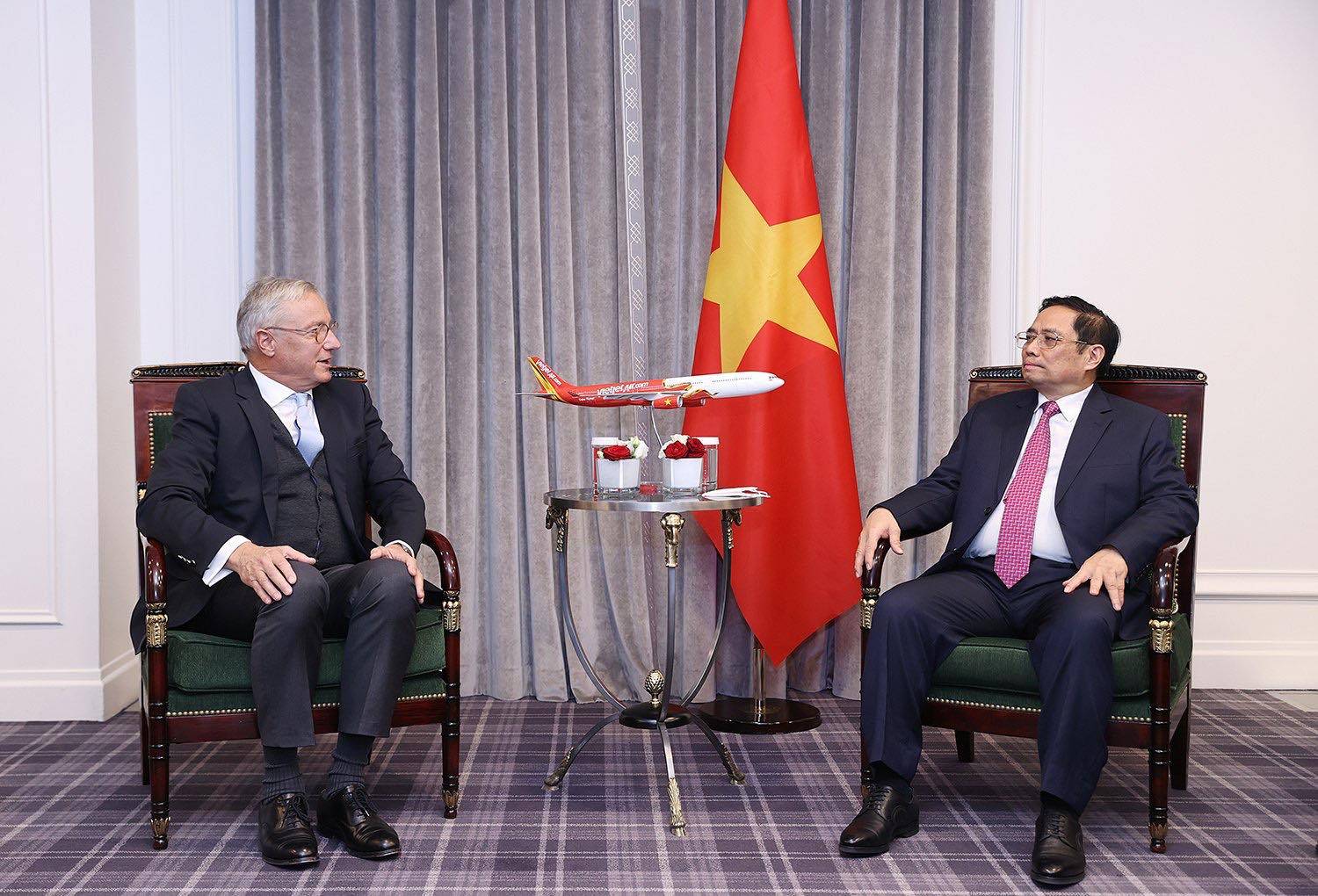 Prime Minister Pham Minh Chinh receives Christian Scherer, Airbus Chief Commercial Officer and Head of International, Paris, France, November 5, 2021
"We are pleased to reach this agreement with Vietjet," said Christian Scherer, Airbus Chief Commercial Officer and Head of International. "It's another example of how we have worked together with our customers to find solutions to adapt to the impact of the pandemic. With its modern and efficient Airbus fleet Vietjet will be well equipped to benefit from the rebound in air travel in Asia, where we see strong pent-up demand."
Vietjet Managing Director Dinh Viet Phuong said: "Our cooperation today again acknowledges both parties' long-term and sustainable relationship, which is now elevated to a strategic and comprehensive partnership. Vietjet has pioneered in choosing and operating a fleet, which is not just new and modern but also environment-friendly and fuel-efficient, to bring joyful and amazing flights to our passengers. I believe that the add-on of the A330s will surely enhance our fleet's technical reliability, operational efficiency and flight range to better meet travel demand of our flyers in the coming time."
The agreement also covers a variety of other aspects such as aircraft's equipment supply and services, comprehensive aviation training, consultation, and development of MRO facilities for Vietjet and in the region together with other initiatives for fuel efficiency and sustainable development.
As Viet Nam's largest airline in terms of the total number of passengers transported domestically, Vietjet currently operates a fleet of 90 aircraft. With a comprehensive network in Vietnam and Asia Pacific, the airline looks to further expand across continents future thanks to its new and modern fleet together with strategic partnership with Airbus in the near.
Known as a new-age carrier, Vietjet has not only revolutionized the aviation industry in Viet Nam but also been a pioneering airline across the region and around the world. With a focus on cost management ability, effective operations, and performance, the carrier offers flying opportunities with cost-saving and flexible fares as well as diversified services to meet customers' demands.
Vietjet is a fully-fledged member of International Air Transport Association (IATA) with the IATA Operational Safety Audit (IOSA) certificate. As Vietnam's largest private carrier, the airline was awarded the highest ranking for safety with 7 stars in 2018 and 2019 by the world's only safety and product rating website airlineratings.com and listed as one of the world's 50 best airlines for healthy financing and operations by Airfinance Journal in 2018 and 2019. The airline has also been named as Best Low-Cost Carrier by renowned organizations such as Skytrax, CAPA, Airline Ratings, and many others./.
By Thuy Dung