Viet Nam's population increases by nearly 1 million in 2022
VGP - Viet Nam's population in 2022 was estimated at 99.46 million, an increase of 955,500 compared to the previous year, reported the General Statistics Office (GSO).
January 04, 2023 8:19 PM GMT+7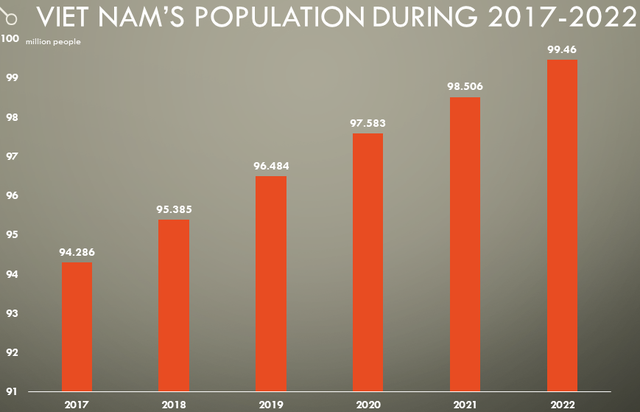 The number of people living in urban areas reached 37.09 million, making up 37.3 percent while 62.37 million people were residents in rural areas, accounting for 62.7 percent.
The sex ratio in Viet Nam in 2022 was 99.85 males per 100 females. There were 49.61 million males and 49.85 million females in the country.
The labor force aged 15 and over was 51.7 million, an increase of 1.1 million against the previous year.
The number of employed workers aged 15 and over was 50.6 million, including 13.9 million working in the agro-aquatic-forestry sector, 17 million working in the industry and construction sector and 19.7 million working in the service sector.
The GSO said the unemployment rate was 2.32 percent in 2022.
According to Viet Nam Population Strategy till 2030, Viet Nam's population is expected to reach 104 million people by the end of this decade.
The strategy targets to bring the sex ratio at birth equal to the natural range, with the birth ratio between boys and girls as 109 boys per 100 girls; the proportion of children under 15 attaining 22 percent; the proportion of elderly people aged 65 and over obtaining 11 percent and the dependency ratios of 49 percent.