Viet Nam's athletes with disabilities set to win APG titles
VGP — All Vietnamese athletes are ready to win medals at the 11th ASEAN Para Games (APG) which will be officially open at the Manahan Stadium, Surakarta City, Central Java Province, Indonesia, on Saturday (July 30).
July 30, 2022 11:44 AM GMT+7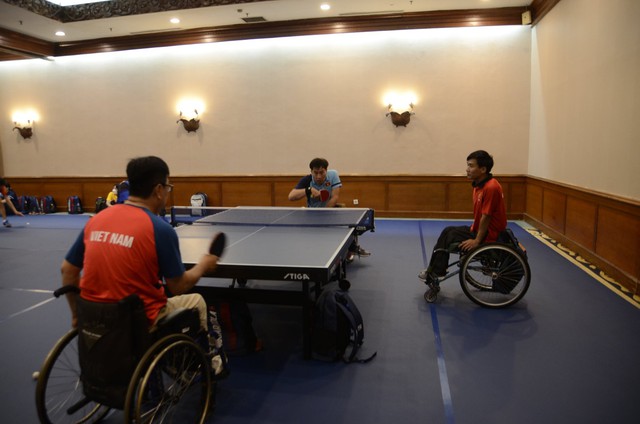 The flag raising ceremony was held on Wednesday with a view to mark the presence of all 11 participating countries. It was a warmly welcome of the host country to all sport delegations to the Games and an encouragement to athletes' competitiveness.

Viet Nam sends a 153-strong team, including 120 athletes, to Indonesia. They will compete in eight (athletics, swimming, powerlifting, badminton, table tennis, chess, judo, archery) out of 14 sports, targeting 40 gold medals to place in leading group.
Athletes are making their final touches of preparation for the biennial sport meet.
"I can't wait to compete," powerlifter Le Van Cong told VGP.
"I have been waiting for the Games for five years. It is time for showing," he said.
Cong is one of the best athletes with disabilities of Viet Nam for more than a decade.
He has reached world level and set up his domination for years.
Among his outstanding achievements are a gold and a record of 183kg in the men's 49kg category at the Rio de Janeiro Paralympics in 2016. A year later, he pocketed a gold and set up a new record of 183.5kg at the world powerlifting championship in Mexico.
He secured a silver at the Tokyo Paralympics and a silver at the world championship, both in 2021. Last month, he added a silver from the World Para Powerlifting -- Asia Oceania Open Championship to his medal collection.
Coming to Surakarta event, Cong is confident to defend his title despite a long-time shoulder injury.
"I have not recovered yet but I am ready to compete and believe in my ability. I will face same rivals who lost to me in previous Games. Injury made me weaker but it can't prevent me from winning," Cong said.
The world record holder will compete on August 1 and is expected to take Viet Nam's first gold medal.
"My teammates and I will try our best to bring home the highest results. It is our duty and honour to compete for the national pride," he said.
Athletic competitor Cao Ngoc Hung also shared the opinion.
"Athletes with disabilities still meet with many difficulties in both training and competing. I hope that our success at the APG will make people care more about Para sports while inspiring everyone, especially people with disabilities, to practise sports," Hung said.
"Awards from the competition will be our pride and bonuses will help us to improve our living standards. These are key reasons that push us to achieve medals."
Hung will compete in men's F57 javelin throw, discus throw and shot put. At the 2017 APG, he won a gold in the javelin and a silver in the discus events.
Last month, he took a javelin silver at the 2022 World Para Athletics Grand Prix in Tunisia.
His wife Nguyen Thi Hai is also a title favourite at the coming Games.
She is defending champion in three events of F56/57 javelin throw, discus throw and shot put.
In Tunisia, Hai claimed a bronze in discus and another in shot put categories.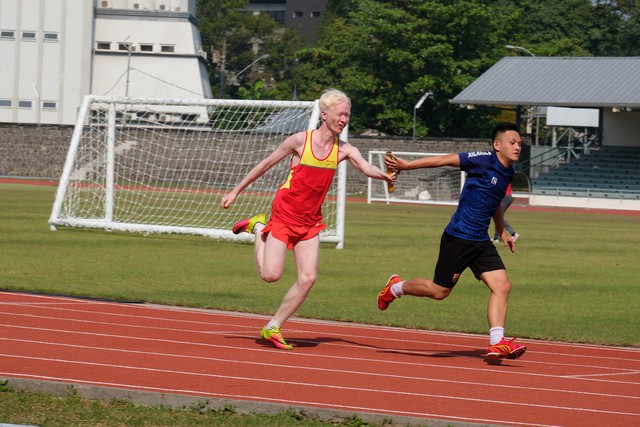 Other medal hopes are powerlifters Nguyen Binh An, Chau Hoang Tuyet Loan and Dang Thi Linh Phuong; swimmers Vo Thanh Tung, Trinh Thi Bich Nhu and Nguyen Thanh Trung; runners Tran Van Nguyen and Nguyen Ngoc Hiep; and chess masters Nguyen Van Quan and Nguyen Thi My Linh.
Apart from victories, Vietnamese athletes are asked to strengthen the solidarity and friendship with international friends. They should be the country's ambassadors to introduce Viet Nam's beautiful images and friendly people to the world.
Viet Nam Sports Administration Director Dang Ha Viet said athletes who can grab high result from the APG would collect points to qualify for the Asian championship and the Paris Paralympics.
The 11th APG was originally set to be hosted by Viet Nam in 2021, but it was cancelled due to the COVID-19 pandemic before being transferred to Indonesia.
Earlier, the 10th edition was cancelled by the Philippines due to the shortage of finance and logistic problems.
In the last APG in 2017 in Kuala Lumpur, Indonesia topped the podium with 126 golds, followed by Malaysia (90) and Thailand (68).
Viet Nam with 142 athletes placed fourth grabbing 40 golds and setting 11 records.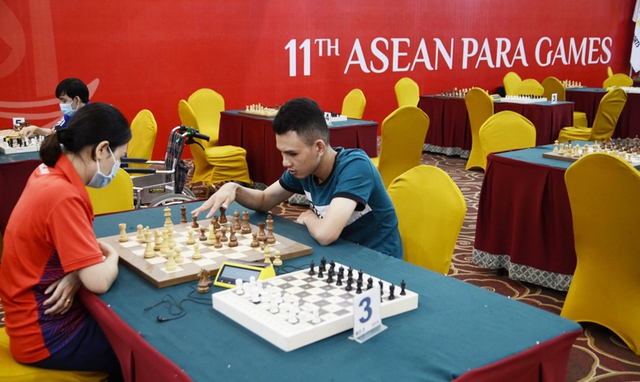 Indonesia ready
Held from July 30 to August 6, the APG includes 14 sports with 907 events, bringing together nearly 1,700 athletes.
Competitions will be held in Surakarta City, Karanganyar District and Semarang City. The Manahan Stadium will serve as the venue for the opening ceremony.
Chairman of the Indonesian National Paralympic Committee Senny Marbun has confirmed that all venues for the APG 2022 are ready for use.
"All the venues for the 2022 APG are ready five days prior to the opening ceremony," Marbun was quoted as saying on antaranews.com.
He informed that all the arenas have been prepared, both the venue and audience access. All match facilities such as lighting and toilets that are disabled-friendly have been prepared.
Disabled spectators are free to attend the multisport event. They will be required to have obtained the booster dose of the COVID-19 vaccine./.