Viet Nam wins gold in karate at Asian Games
VGP — Viet Nam added one gold in the pocket after the karate team won at the 19th Asian Games on October 6 in China.
October 07, 2023 1:18 PM GMT+7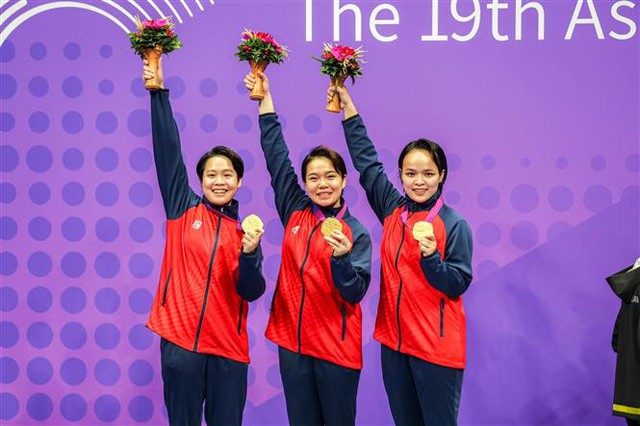 The women's kata (performance) trio beat Malaysian rivals in the final match to take the top podium at the Linping Sports Centre Gymnasium.

Vietnamese team of Nguyen Thi Phuong, Luu Thi Thu Uyen and Nguyen Ngoc Tram made up beautiful performance that took 42.7 points from the judge.
Malaysia tried their best and received 39 points.
It was Viet Nam's third gold after one from shooting and another from sepak takraw.
"I have to thank my coaches and teammates who worked hard with me and did best job so that we can take the gold today," said Tram.
"Asian Games is a large competition. We had to discuss a lot about tactics and every move in our performance. This is a really important gold to me. I am happy and proud when we win gold for Viet Nam. "
Her teammate Phuong added: "It is emotional to hear people shouting two 'Viet Nam' during our performance. It makes me excited.
"I felt disappointed about my score yesterday, so I determined to do better my best in the team event. And I made it," she said, referring to her fourth finish in the individual kata category.
Their coach Nguyen Hoang Ngan cried when talking about the gold.
"When kata was named as one of event in the Asian Games, I believed that Viet Nam would have chance to win," said Ngan.
"I failed twice in this competition when I was an athlete. This time, I wanted my athletes to make my dream true. Phuong was not successful in the individual event but she did not let it affect the team's show.
"This gold medal is valuable. It reflects Viet Nam's ability and strength."
Ngan added that the gold was the best in her career and she was proud of the athletes who overcame difficulties to win.
Minutes after the gold, Viet Nam bagged silver in the kumite (combat) event by Nguyen Thi Ngoan.
Ngoan lost to Gong Li of the hosts in the women's 61kg category.
"I did not have best fitness in this match. My Chinese rival was also strong and playing under huge pressure of local supporters was not easy," said Ngoan.
"This is my second time at an Asian Games and I have silver. I am happy with the result," she said.
Earlier on October 5, Vietnamese athletes won two bronze medals.
Dinh Thi Huong secured bronze in the women's kumite 68kg. She beat Ceyco Georgia Zefanya of Indonesia in the third-placed playoff.
Phung Thi Hue was third in the women's jujitsu 48kg pool, beating Nutchaya Sugun of Thailand in the bronze-medal match with an advantage point.
Viet Nam has won three golds, four silvers and 17 bronzes to place No 17 in the ranking table./.