Viet Nam wins 17 prizes at International Robothon 2023
VGP - The Vietnamese team won 17 prizes at the International Robothon 2023 held in Kuala Lumpur, Malaysia, on March 26.
March 28, 2023 3:16 PM GMT+7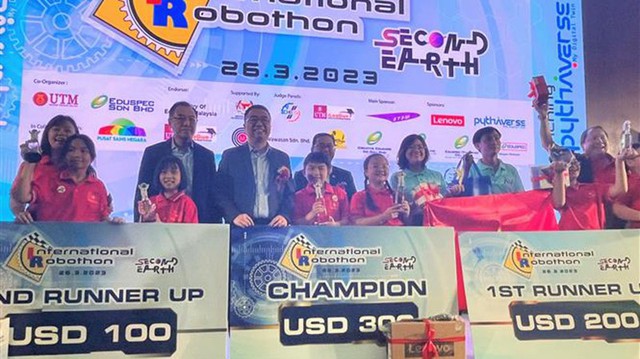 International Robothon 2023 is an annual event held for the past 17 years with the participation of thousands of primary and secondary school students from Southeast Asian countries. This year, it was resumed after three years of suspension due to the COVID-19 pandemic.
The competition is within the framework of the New Generation Digital Learning Forum event organized by Eduspec Holdings Berhad (Malaysia) and its partners.
Attending International Robothon 2023 with the theme "Second Earth", were 258 contestants forming 101 teams from four countries, including Viet Nam, Thailand, Philippines and Malaysia.
The Vietnamese team has 35 contestants nationwide, divided into 18 teams competing in Leanbot - a brand new set of STEM Robotics solutions researched and developed by DTT Viet Nam Technology Joint Stock Company.
The Vietnamese team won 17 awards, including one championship, one first prize, one second prize, eight third prizes and six consolation prizes. Notably, the championship went to Binh Thuy Primary School in the Mekong Delta city of Can Tho.
The Malaysian team won the title in the Lego EV3 category, while the championship in the VEX IQ category came to the Philippine team.
Addressing the event, Malaysian Minister of Science, Technology and Innovation Chang Lih Kang emphasized that candidates could discover the power of science, technology and creativity and develop the essential skills demanded by the high-tech industry through the contest.
Robothon is an annual STEM (integrated knowledge and skills in science, technology, engineering and math) Robotics themed competition for Asia.
The competition's goal is to help students explore today's real-world problems with innovative STEM-based solutions. The International Robothon 2024 will be held in Thailand./.