Viet Nam win first medals at Hangzhou Asian Games
VGP — Viet Nam pocketed two bronze medals in the first day of competition at the 19th Asian Games (ASIAD) on September 24 in Hangzhou, China.
September 24, 2023 8:47 AM GMT+7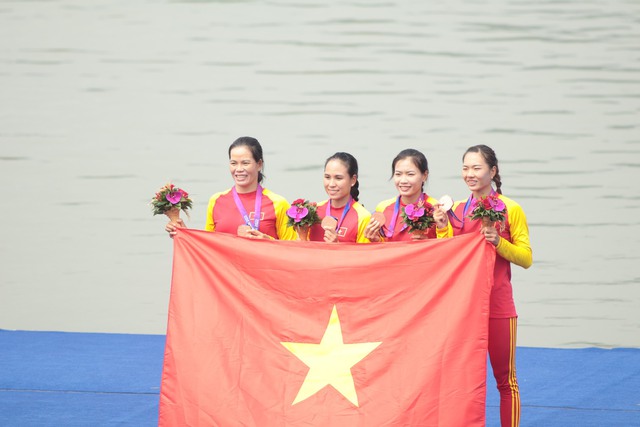 Taekwondo martial artist Tran Ho Duy received his bronze in the men's individual poomsae (performance) event.

He defeated Chan Chung Yin of Hong Kong in the first match and Moghis Wahid Khalil I of Saudi Arabia in the quarter-finals.
In the afternoon's semi-finals, Duy lost to powerful Kor Kang Wanjin of South Korea and placed third overall.
Earlier, rowing team of Pham Thi Hue, Dinh Thi Hao, Du Thi Bong and Ha Thi Vui won the first Games' medal after finished third in the women's coxless fours at the Fuyang Water Sports Centre.
They finished the race in a time of 6min 52.35sec.
China came first on 6:42.03, followed by Japan clocking 6:47.04.
"We competed with high determination and effort but China and Japan were really strong," Hue told reporters after the awarding ceremony.
"However, this medal is an achievement of our four teammates. We are happy with it and hope that it will be a push for rowing and other Vietnamese teams in the next competition days."
Viet Nam Chief-de-mission Dang Ha Viet appreciated their success and awarded them hot-spot bonus.
"Honestly, we expected silver from this event. A gold seemed impossible because China were too strong," said Viet.
"However, Japan had two new and strong members and they rowed really well in the last 500m to replace Viet Nam in the second position.
"In addition, our athletes are actually of the lightweight category. They just switched to the heavyweight category. They have met with many difficulties to get used with the new class. But they compete really well," he said.
Viet Nam still has chance to win medal in rowing as athletes will compete in four finals of women's single sculls, women's quadruple sculls, women's eight and men's coxless fours on September 25.
In other sports, boxers Ha Thi Linh and Nguyen Thi Ngoc Tran advanced to the second rounds after their remarkable wins.
Linh defeated Sunar Sangita of Nepal 5-0 in the women's U60kg class. She will next play Yang Wenlu of the hosts in the last-16 round.
Tran beat Nigora Olimova of Tajikistan 5-0 in the women's U54kg, setting up a quarter-final round match with Pang Chol-mi of North Korea.
In shooting, trio Ha Minh Thanh, Phan Xuan Chuyen and Vu Tien Nam qualified for the final of the men's 25m air rapid fire pistol team. They will be against strong rivals including China, South Korea, Japan, and India on September 25.
In gymnastics, Vietnamese athletes advanced to five finals of different events.
Nguyen Van Khanh Phong placed fourth in the men's rings qualification with 14,566 points and entered finals.
Le Thanh Tung earned 12,733 points and placed No 13 to qualify in the men's horizontal bar.
Dang Ngoc Xuan Thien scored 14,233 points for a seventh position in the men's pommel horse. He advanced to the finals.
Trinh Hai Khang was the most successful one as he qualified for men's vault and floor finals after he placed seventh in both two qualifiers.
Brilliant Asian Games
The 19th Asian Games officially began on September 23, presenting a dazzling display that celebrated the depth of Chinese culture and history and emphasized unity in diversity.
Chinese President Xi Jinping declared the Games open at the Hangzhou Olympic Sports Centre. The event was graced by numerous state leaders and international dignitaries.
The Hangzhou Games, which was postponed by a year due to the COVID-19 pandemic, is the Asian largest sports event.
Fans packed the 80,000-seat stadium and many of more than 12,000 participants from 45 nations and territories paraded to officially open the two-week show.
With the theme 'Tides Surging in Asia', water played a central role throughout the cultural performance.
At the opening ceremony, spectators were treated with stunning light shows and 3D projections depicting moments of the city's past. It reached its climax with a giant digital torchbearer joined Olympic gold medallist Wang Shun to light the cauldron.
The Hangzhou Games will feature 40 sports, 61 disciplines, and 481 events from September 23 to October 8.
Viet Nam's 504-strong contingent will compete in 31 sports and 202 events.
The Southeast Asian powerhouse expect to bring home five golds as many as they did in the previous Games in Indonesia in 2018.
Golden hopes are on athletics, swimming, cycling and rowing. Other potential sports are sepak takraw, shooting, archery, gymnastics and martial arts./.