Viet Nam welcomes appointment of Brunei's diplomat as special envoy to Myanmar
VGP – Vietnamese Foreign Minister Bui Thanh Son emphasized that ASEAN Regional Forum (ARF) has proved its value and power in promoting dialogue, cooperation and trust-building in the region.
August 06, 2021 8:10 PM GMT+7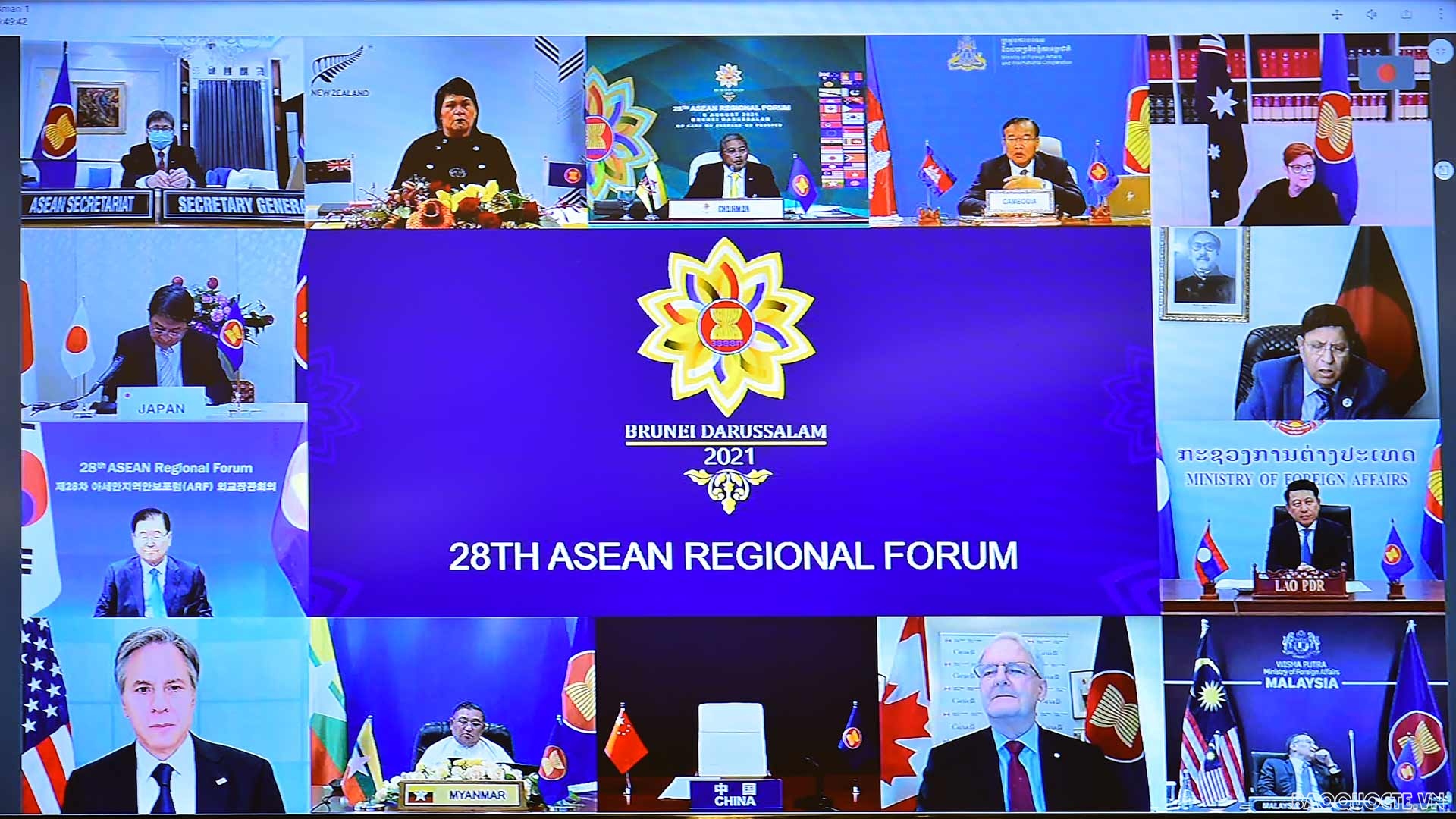 Participants to the 28th ASEAN Regional Forum held virtually on August 6, 2021
Speaking at the 26th ARF held virtually on Friday, FM Bui commented that working together is the strength to win the fight against the pandemic. He suggested that partners, especially leading countries in vaccine manufacture, continue to work with ASEAN to ensure fair and equal access to vaccines for all, as well as to facilitate the vaccine tech transfer.
The diplomat affirmed that Viet Nam wants countries to actively participate and contribute in a constructive manner to dialogue and cooperation for sustainable peace and security in the region.
Regarding the East Sea, FM Bui reiterated the principled position of ASEAN and of Viet Nam on the issue, emphasized the importance of trust-building and self-restraint and avoidance of activities that would further complicate the situation and cause damage to the marine environment.
The Vietnamese FM also pointed out the need to pursue peaceful resolution of disputes and differences in accordance with international law and UNCLOS 1982. He reaffirmed that Viet Nam would do its utmost, together with ASEAN and China, to advance the process of COC negotiations, aiming for a substantive and effective COC that is in line with international law and the 1982 UNCLOS.
Bui said that Viet Nam welcomed the appointment of Brunei's Second Minister of Foreign Affairs Haji Erywan as the Special Envoy of the ASEAN Chair on Myanmar.
The meeting approved 38 activities for 2021-2022 in peacekeeping operations, ocean waste, Law of the Sea and Fisheries Law, Ferry Safety. The Ministers agreed that ARF should make further efforts in addressing the common security challenges. They emphasized the need for cooperation to prevent, minimize and respond to effects of the pandemic, bilaterally, regionally and internationally. Heads of delegation shared the common awareness on the importance of maintaining and promoting peace, security, stability, safety, and freedom of navigation in and overflight above the South China Sea.
At the forum, the ministers adopted a Declaration on Promoting Agenda for Youth, Peace and Security, highlighting the role, contribution and participation of young people in efforts to maintain peace and security./.
By Nguyen Minh