Viet Nam, U.S. enhance cooperation in crime prevention
VGP - Minister of Public Security To Lam held online talks with Director of the U.S. Federal Bureau of Investigation (FBI) Christopher Asher Wray on February 23 to discuss measures on promoting collaboration in crime prevention and combat.
February 24, 2022 11:17 AM GMT+7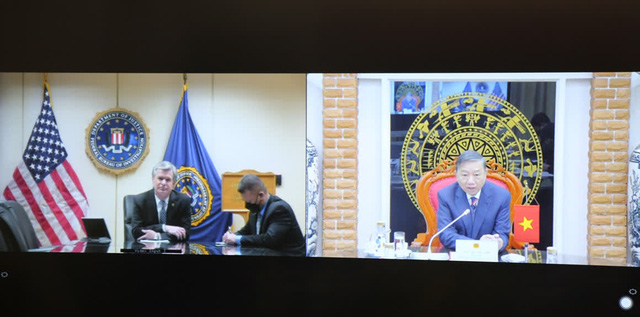 At the talks, To underscored that the two sides have carried out cooperation activities in criminal justice and gained fruitful outcomes in the fight against transnational crimes on the basis of a memorandum of understanding (MoU) on transnational crime prevention and control, which was signed in 2019.
Both side have regularly exchanged information and supported each other during investigation, prosecution and trial, notably cases involving high-tech crimes, drugs and obtaining property by deception.

He suggested the FBI effectively speed up the effective implementation of the MoU and an agreement on technology transfer of genetic verification software signed in 2015.
The Vietnamese Minister stressed the need to accelerate the signing of agreements on mutual legal assistance in criminal matters, extradition, and the transfer of sentenced persons, as well as promote information exchange in crime prevention.
For his part, Wray expressed his belief that the two sides will gain more achievements in the national construction and protection, contributing to ensuring peace and stability in the region and the world.