Viet Nam SUSPENDS inbound flights for fear of new COVID-19 variants
VGP – Prime Minister Nguyen Xuan Phuc has decided to temporarily suspend inbound flights from countries and territories, firstly the UK and South Africa, that have reported new COVID-19 variants.
January 06, 2021 8:20 AM GMT+7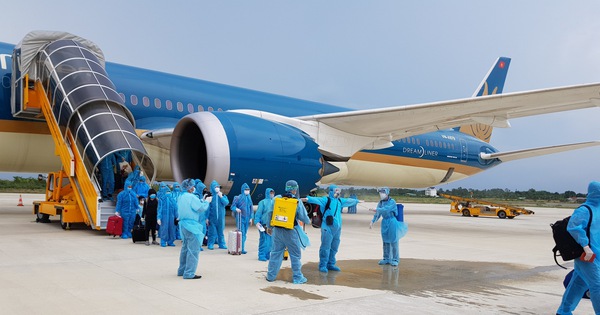 From April 10, 2020 to January 3, 2021, the Government has arranged more than 240 rescue flights to repatriate more than 66,000 Vietnamese citizens stranded abroad due to Covid-19.
>>> British national among seven new cases of COVID-19
>>> Viet Nam reports new Covid-19 variant first seen in UK
This is part of the Directive No. 01/CT-TTg signed by PM Phuc on strengthening prevention and control of the COVID-19 pandemic.
The Government chief assigned the Ministry of Foreign Affairs to work with the Ministry of Health and the Ministry of Transport to work out a list of countries and territories that the new regulations will apply to.
On 18 December, national authorities in South Africa announced the detection of a new variant of SARS-CoV-2 that is rapidly spreading in three provinces of South Africa. South Africa has named this variant 501Y.V2, because of a N501Y mutation.
Meanwhile, the UK has issued harsher restrictions to tackle the emergence of a new, more infectious variant of coronavirus that is spreading rapidly in southeast England.
British Prime Minister Boris Johnson said the new variant was up to 70% more transmissible than other variants, with it already accounting for over 62% of COVID-19 infections in London.
PM Phuc also tasked the Ministry of National Defense to coordinate with the Ministry of Public Security and People's Committees of border provinces to strengthen border control in order to prevent illegal entrants.
The Ministry of National Defense and People's Committees of provinces and centrally-run cities shall have to ensure that all entrants comply with 14-day mandatory quarantine at concentrated sites and medical surveillance for another 14 days after mandatory quarantine.
In case of uncovering new COVID-19 case, the Ministry of Health, Ministry of Public Security, Ministry of National Defense and People's Committees of relevant provinces and cities shall have to promptly trace those having been in contact with the case and take necessary measures to prevent community transmissions.
Individuals and organizations who fail to comply with regulations on COVID-19 prevention and control shall be strictly fined, PM Phuc ordered.
Thanks to drastic and early measures, Viet Nam has controlled the COVID-19 pandemic well, allowing the country to have more room for economic recovery and arrange rescue flights to bring home citizens stranded abroad due to COVID-19.
As of 6:05 pm on Tuesday, the nation confirmed 1,494 COVID-19 patients, including 693 local infections.
Of the patient tally, 1,339 have recovered and exited hospitals while 35 others have been reported dead./.
By Thuy Dung
Follow us on Twitter @VNGovtPortal and Facebook page @VNGov