Viet Nam suggests ASEAN-U.S. step up cooperation in three aspects
VGP – Vietnamese Prime Minister Pham Minh Chinh suggested ASEAN and the U.S. should foster cooperation in security, socio-economic recovery, and sustainable and inclusive development.
October 27, 2021 10:16 AM GMT+7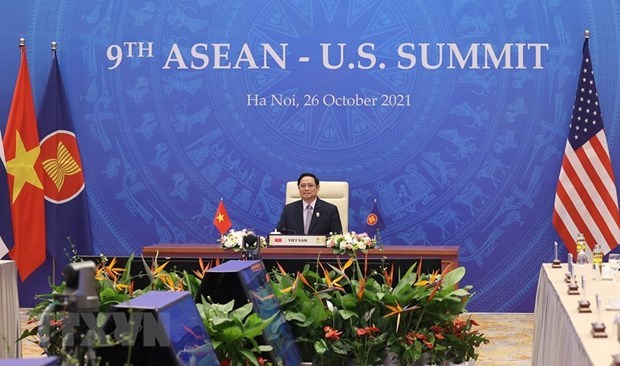 Vietnamese Prime Minister Pham Minh Chinh at the 9th ASEAN-U.S. Summit, held virtually on October 26
The Government chief made the suggestion in his remarks at the 9th ASEAN-Summit held digitally on October 26.
The active and constructive engagement of major powers, including the U.S. in the region plays a key role in ensuring peace, cooperation, development and security in the region, stressed Pham.
Major powers need to partake in full consultation with ASEAN over any issues related to peace, stability and regional architecture, he said.
Pham spoke highly of the role played by the U.S. in bolstering multilateral cooperation and in addressing global challenges.
Regarding the COVID-19 fight, PM Pham expressed thanks to the U.S. for its timely and effective support for ASEAN, calling on the American side to help ASEAN improve its early warning capacity to deal with health emergencies.
For security flashpoints, Pham emphasized that constrictive and responsible approach plays an important role in resolving risks and contributing to stability and development.
He expects that the U.S. would engage constructively and cooperate with ASEAN in ensuring peace, stability, security, safety and freedom of navigation and aviation in the East Sea.
All disputes and divergences must be settled peacefully through diplomatic process and international law, including the 1982 United Nations Convention on the Law of the Sea-the legal framework for all activities in the oceans and seas./.
By Kim Anh