Viet Nam successfully defend AFF U23 Championship title
VGP — Viet Nam successfully defended the AFF U23 Championship beating powerful Indonesia 6-5 in the penalty shootout in Rayong, Thailand.
August 28, 2023 6:32 AM GMT+7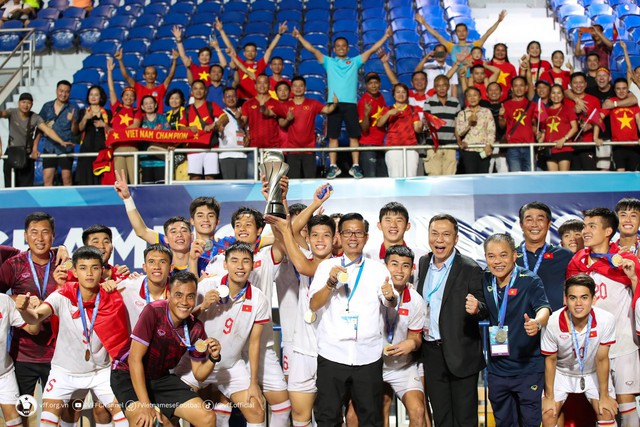 With two trophies in a row, Viet Nam is now the most successful winner of this tournament.

Indonesia, the SEA Games defending champion, challenged Viet Nam in the final which was held at the Rayong Provincial Stadium on August 26 evening. The two teams played out a goalless draw until extra time so the match must be decided by spot kicks.
The first five kickers of both teams successfully carried out their duties. At 5-5, the failure of Indonesian goalkeeper Ernando Ari's penalty kick became the difference. His finish was denied by Vietnamese Quan Van Chuan who later became the best goalkeeper of the tournament.
Viet Nam's Thai Ba Dat successfully converted his penalty to change the position 6-5, while ensuring the team as the 2023 AFF Cup champion.
"We have played a tensed match. I am happy as the team win and I earn my first title with a national team," said coach Hoang Anh Tuan of Viet Nam.
"I am pleased with my players' performance in this championship. Many of them are 17, 18 and 19 but they play well, showing their potential and ability. I really appreciate all of them.
"My thanks are to clubs and football centres which gave best conditions for players to practice well. Thanks the Ministry of Culture, Sports and Tourism, the Sports Authority of Viet Nam and the Viet Nam Football Federation (VFF) for strongly supporting us in training and competing activities."
The Vietnamese team arrived home on August 27 and the VFF organised a ceremony to honour them in Ha Noi.
"VFF did not set heavy target for the team but we watched their matches carefully. We are really happy witnessing their success," said VFF Vice President Tran Anh Tú.
"Their achievement will be a strong motivation for them ahead of the Asian Games in China next month. I hope that players will not satisfy with what they have made but keep their feet on the ground. We still have many mistakes to fix and need to practice for better performance," he said.
On the other side, coach Shin Tae-yong of Indonesia revealed the reasons why his team lost.
Shin said it was because of a lack of player options in the locker room due to various problems. Komang Teguh and Titan Agung were sent home one day before the tournament started, while Bagas Kaffa and Irfan Jauhari suffered injuries.
"We only have five subs so we have to be well prepared in case of extra time. Viet Nam had more players and that is their advantage," Shin said in a post-match press conference.
The South Korean coach also blamed referees' mistakes that strongly affected the result of the final.
As a result of several times showing dissatisfaction with the match referee's performance, Shin received a yellow card in the addition time.
Shin also expressed his disappointment with the referee after the match. He considered the referee's decision to have changed the course of the fight.
The loss meant his hope of winning his career's first title disappeared. However, he praised his players as saying: "Thank you very much, all the Indonesian players. I congratulate Viet Nam for winning the championship".
It was the second title in a row for Viet Nam after winning it in 2022. As a result, Viet Nam leads the collection of winners' medals in the four editions of this tournament.
Two previous winners are Thailand in 2005 and Indonesia in 2019.
In the third-place play off, host Thailand took bronze medal, following a 4-3 victory over Malaysia on penalties after playing without a goal in the official time.
The organisers have picked the best players for the tournament's Dream Team in which Viet Nam has four representatives. They are midfielders Khuat Van Khang and Dinh Xuan Tien, who is the tournament's Top Scorer; defender Luong Duy Cuong and best goalkeeper Chuan.
Indonesia also has four, Thailand two and Malaysia one./.