Viet Nam, Singapore chart diections for relations in next 50 years
VGP - The recent official visit of Singaporean President Halimah to Viet Nam offered an important opportunity for both sides to review the excellent achievements over the past time and make further progress in our relations over the next 50 years and beyond, said Singaporean Ambassador to Viet Nam Jaya Ratnam.
October 21, 2022 2:40 PM GMT+7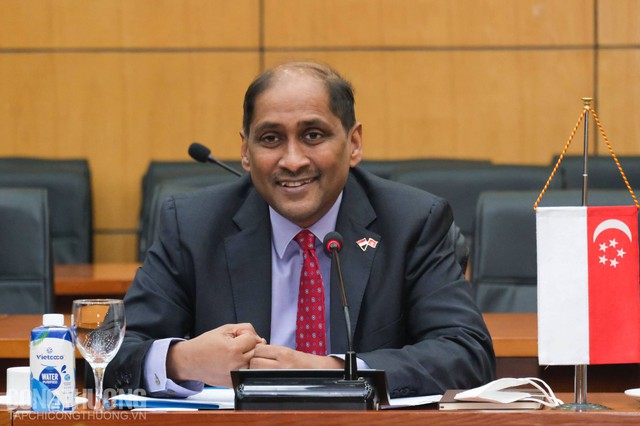 Ambassador Jaya Ratnam made the assessment in an interview with the Viet Nam Government Web Portal (VGP) right after the official visit of President Halimah to Viet Nam on October 16-20 at the invitation of Vietnamese State President Nguyen Xuan Phuc.
Future-oriented nature of bilateral relations
Viet Nam and Singapore will celebrate the 50th founding anniversary of diplomatic ties and the 10th anniversary of the strategic partnership in 2023. In your opinion, what are the most exceptional marks in the bilateral ties?
Ambassador Jaya Ratnam: Singapore President Halimah Yacob's state visit to Viet Nam is the latest in a sequence of high-level exchanges between Singapore and Viet Nam over the course of this year.
This sequence of visits began with the state visit of Vietnamese President Nguyen Xuan Phuc in February 2022. This exchange of state visits is significant, not only because both visits have taken place within the same year, but also because of the "firsts" in each of the visits.
State President Phuc was the first state visitor that Singapore received since the COVID-19 pandemic, while President Halimah's visit to Viet Nam is her first outgoing state visit since the COVID-19 pandemic.
Since then, as both Singapore and Viet Nam reopened our borders in March, my Embassy and I have been extremely busy, welcoming our Speaker of Parliament Tan Chuan-Jin in May 2022, Minister for Manpower and Second Minister for Trade and Industry Dr Tan See Leng in August 2022, Deputy Prime Minister and Coordinating Minister for Economic Policies Heng Swee Keat in September 2022, as well as a host of visits at the officials' level.
This intense frequency of high-level visits is indicative of the strong political trust between our countries at the leaders' level as well as the keen desire of both sides to partner and collaborate with each other across a wide range of fields.
The reopening of borders has also allowed the resumption of people-to-people relations, in the form of tourism, business exchanges and education. These provide a critical foundation upon which our bilateral relations are built.
Coming on the cusp of Singapore and Viet Nam celebrating the 50th anniversary of the establishment of diplomatic relations and 10th anniversary of our Strategic Partnership in 2023, President Halimah's visit to Viet Nam was an excellent curtain-raiser for the twin 50/10 anniversaries.
The visit was an important opportunity for both sides to review the excellent achievements that have been made in deepening our bilateral relations over the past time as well as consolidate and cement cooperation in several areas.
The four MoUs were signed during the state visit in a range of areas where Singapore and Viet Nam are keen to collaborate in, including renewable energy cooperation, carbon credits pilot projects, cybersecurity, and technical and vocational education and training.
These agreements reflect the forward-looking and future-oriented nature of our bilateral cooperation and provide direction for both countries to make further progress in our relations over the next 50 years and beyond, he finalized.
Singapore is keen on Viet Nam's net zero emission goal
Economic linkages remain a bright spot in the bilateral ties. Could you please inform assessments of Singapore's investors about the business environment in Viet Nam and their interests here? Do you have any suggestion for the Vietnamese Government to perfect the business and investment environment in the post-pandemic period?
Ambassador Jaya Ratnam: The potential for broadening and deepening economic cooperation between Singapore and Viet Nam is immense.
One segment of this cooperation happens organically, without the intervention of our two governments.
In my conversations with Singaporean companies, both large and small, the constant refrain is that they want to invest more in Viet Nam.
This is testament to the attractive conditions that Viet Nam has been able to create, including political stability, promotion of free trade agreements, and a young and driven workforce.
It is hence no surprise to me that Singapore has become the largest source of foreign investment into Viet Nam since 2020, and cumulatively the second largest source of foreign investment.
Where our governments can play a role is in identifying new areas for mutually beneficial cooperation.
In my view, there are two areas that will be ripe for the picking in the near- to medium- term.
The first area is in developing renewable energy. Viet Nam has immense potential for renewable energy, particularly wind and solar energy. Developing this potential could transform Viet Nam into an important renewable energy hub for the Southeast Asian region.
Singapore is keen to participate in Viet Nam's push to meet its target of achieving net zero emissions by 2050. It is for these reasons that our countries signed an MoU on Energy Cooperation during the state visit.
The second promising area is in digital transformation, which is critical for increasing productivity and in improving the lives of our people.
During President Phuc's state visit to Singapore earlier this year, we signed an agreement to cooperate on digital economy development.
The cybersecurity agreement signed during President Halimah's state visit builds on this cooperation.
We look forward to working closely with our Vietnamese counterparts to advance collaboration in this area, both to address our respective interests in a bilateral manner but also with aspirations for Singapore and Viet Nam to be pathfinders for the wider Southeast Asian region.
New-generation VSIP towards Industry 4.0 and green elements
Viet Nam Singapore Industrial Parks (VSIP) is regarded as the most successful model in the Viet Nam-Singapore strategic partnership. Could you tell us about Singapore's development orientations of VSIP towards green, smart, high-tech and innovative directions in the coming time?
Ambassador Jaya Ratnam: Since the first Viet Nam-Singapore Industrial Park (VSIP) was established in Binh Duong Province in 1996, the VSIP model has become an important icon for the overall economic relationship between Singapore and Viet Nam.
The 11 VSIPs in eight provinces across the length of Viet Nam, in the Northern, Central and Southern regions, have attracted US$ 7 billion of investments and created more than 300,000 jobs.
During her state visit to Viet Nam, President Halimah and President Phuc witnessed the presentation of the investment license for the 12th VSIP in Can Tho province and President Halimah visited VSIP Bac Ninh I where she was briefed about the future direction of the VSIP.
Beyond the direct value brought about by the VSIPs in terms of investment, jobs and economic growth, the key differentiating factor for the VSIPs is in doing things that are relevant to supporting Viet Nam's development needs as well as things that engender win-win cooperation for Viet Nam and Singapore.
VSIP Binh Duong III, which Prime Minister Pham Minh Chinh graced the ground-breaking ceremony in March 2022, is a clear example of this.
As a new-generation VSIP, VSIP Binh Duong III will incorporate Industry 4.0, sustainability, and green design elements.
These are all areas in which the Vietnamese government has expressed interest in addressing to set Viet Nam on a path towards achieving its goal of becoming a high-income country by 2045.
Like these new-generation VSIPs, I have great confidence that our bilateral partnership will continue to evolve and adapt with the times and circumstances to allow Singapore and Viet Nam to be at the forefront in capturing the opportunities that the future economy presents.
Thank you!