Viet Nam shows strength of socialist-oriented market economy: Venezuelan Ambassador
VGP - Venezuelan Ambassador to Viet Nam Tatiana Pugh Moreno has expressed her impression on Viet Nam's incredible recovery post the COVID-19 pandemic, saying that it is thanks to strengths brought about by the socialist-oriented market economy.
January 16, 2023 12:59 AM GMT+7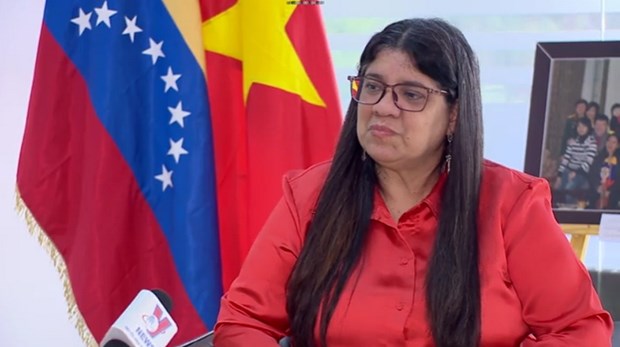 In an interview with Viet Nam News Agency on the occasion of the New Year, Moreno said Viet Nam's recovery was evidenced by the impressive economic growth of 8 percent last year.
Emphasizing Venezuela's desire to learn from Viet Nam's innovation experience, the Ambassador said that Venezuela was also looking for ways to rebuild the economy. Viet Nam should share with the world in general and Venezuela in particular lessons in this field.
Besides, Viet Nam's voice in the international arena was strengthened as Viet Nam won its seat at the United Nations Human Rights Council for the term 2023-2025 in October 2022.
This helps a responsible country like Viet Nam assert its position by implementing the principles of solidarity and respect for peoples' right to self-determination.
The diplomat said 2022 had marked a special time when Viet Nam and Venezuela resumed the exchange of high-level visits, including Viet Nam visits made by the Vice Foreign Minister for Asia, the Middle East and Oceania, Capaya Rodriguez and Vice Foreign Minister for North America, Carlos Ron.
The Ambassador shared that in the near future, the two sides would continue to promote cooperation activities in various fields such as oil, gas, and energy. The 4th meeting of the Viet Nam-Venezuela Intergovernmental Committee is expected to be held in Caracas in 2023.
This offers a significant opportunity for them to review bilateral coordination and work out measures to further elevate bilateral ties.
Recognizing that the world is facing an energy crisis while Venezuela is among the primary energy suppliers in the world, she expressed that Venezuela was always ready to help Viet Nam in this field, as the late President Hugo Chavéz once asserted.
On the occasion of the upcoming Lunar New Year festival, Ambassador Tatiana Pugh Moreno, on behalf of President Nicolás Maduro and the people of Venezuela, conveyed her best wishes to the Vietnamese people./.