Viet Nam sends nearly 1 million guest workers in 2013-2021
VGP - Nearly 1 million Vietnamese people travelled to work under labor contracts in more than 40 countries and territories worldwide in the 2013-2021 period, official data shows.
August 17, 2022 2:42 PM GMT+7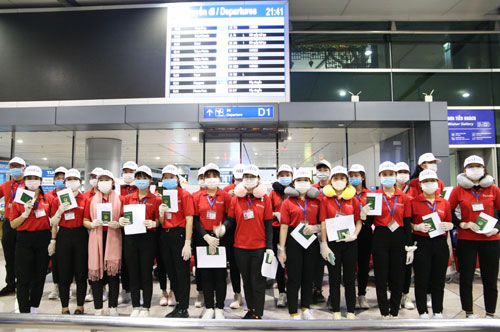 The number of companies licensed to bring laborers to work overseas has increased remarkably to over 500 from only 15 in 1990, said Director of the Department of Overseas Labor under the Ministry of Labor, Invalids, and Social Affairs (MOLISA).
Each year, there are additional 100,000 guest workers who work in around 30 career fields and send home over US$ 3billion in remittance.
Up to 90 percent of the guest workers are low-skilled laborers who gravely work through limitations of expertise and foreign language barriers. The remainder of less than ten percent are high-level technical workers and experts, said Mr. Nguyen Xuan Lanh, Deputy General Director of Esuhai Company.
Over the past year, labor export has been only focused on job generation for the poor without paying attention to the group of students and vocational training laborers who are able to master skills, technology, and management thinking of foreign countries.
It is time to raise the export rate of high-quality labor, partly of which would be welcoming students to engage in the labor export market, said Nguyen Luong Trao, Chairman of the Viet Nam Labor Export Association.
Ms. Ingrid Christensen – ILO Viet Nam director raised concerns about the cost burden of going to work abroad that Vietnamese workers have to pay, presenting the estimated sum of VND 165 million, which is equivalent to guest workers' salary levels of eight months abroad./.