Viet Nam SDGs Investor Map makes debut
VGP - The UNDP in Viet Nam has launched the Viet Nam Sustainable Development Goals (SDGs) Investor Map, presenting 14 investment opportunities, all of which contribute to a more sustainable and inclusive Viet Nam.
December 13, 2022 10:24 AM GMT+7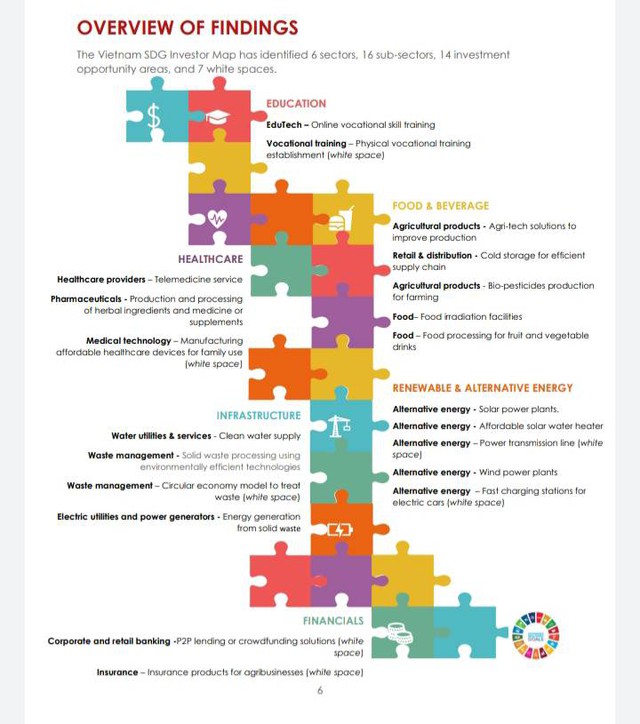 This map aims to secure the interest of international and domestic investors in sustainable investment that can contribute to Viet Nam's achievement of SDGs while also providing resilience to shocks such as those caused by COVID-19.
In light of the investment environment in Viet Nam, the report has proposed investment opportunities that promise a significant social return, some with a reduced commercial return.
The deployment of an innovative finance toolbox will likely be required to navigate and mitigate this trade-off. Such tools can strengthen the investment case by blending public and private, commercial and concessional capital for the greater good.
The Viet Nam SDG Investor Map should encourage all investors, both those within and outside of Viet Nam, to engage with the people and processes driving investment opportunities on the ground to realize the full impact and financial potential.
As the country continues to commit to delivering SDGs while maintaining high economic growth, this report invites government partners, investors, and concerned citizens alike to continue the discussion and engagement on sustainable investment opportunities.
According to the report, investment in Viet Nam has been remarkably increasing over the last 30 years.
In 2020, both the non-state and foreign investment sectors account for 66.2 percent of the total national investment of approximately US$94.2 billion.
Foreign Direct Investment (FDI) plays a significant role in Viet Nam's private investment landscape. Accumulated as of 20 December 2021, Viet Nam had 34,527 valid foreign investment projects, with a total registered capital of US$ 408.1 billion.