Viet Nam receives over 250,000 COVID-19 vaccine doses donated by Czech Republic
VGP – The Ministry of Health has received 210,000 doses of AstraZeneca vaccine and 40,800 doses of Moderna vaccine worth nearly US$ 1.3 million donated by the Czech Government.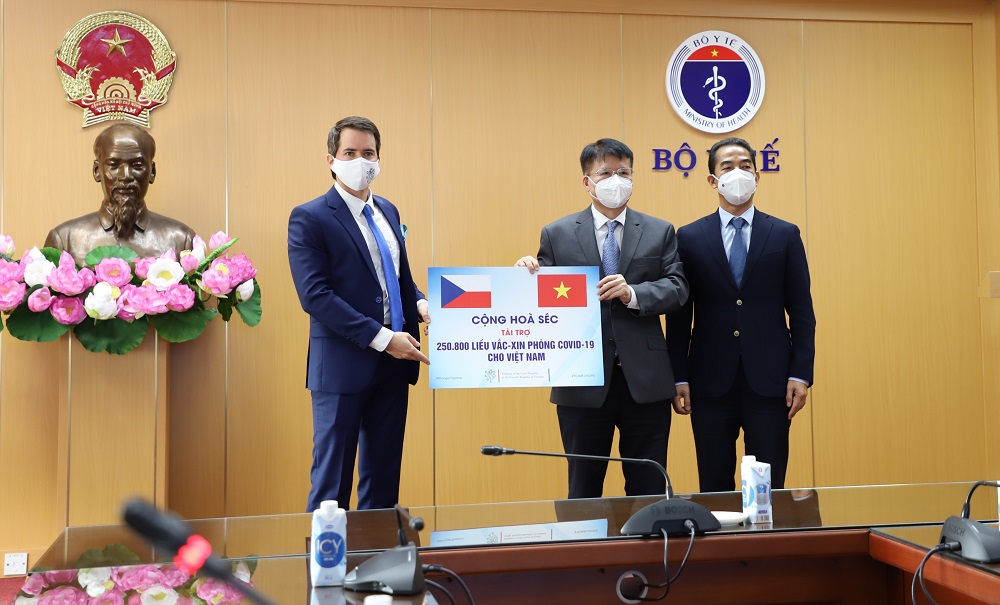 Chargé d'Affaires of the Czech Embassy in Ha Noi Lukas Musil (L), Viet Nam's Deputy Health Minister Truong Quoc Cuong (C), and Deputy Foreign Minister To Anh Dung at the handover ceremony, Ha Noi, Viet Nam August 30, 2021.
The vaccines were transported by UPS, an American multinational shipping and supply chain management company to Ha Noi-based Noi Bai international airport on August 27.
Chargé d'Affaires of the Czech Embassy in Ha Noi Lukas Musil handed over the doses to Vietnamese Deputy Health Minister Truong Quoc Cuong.
"We have always supported each other. At the time when Czech was making efforts to fight the pandemic last year, the Vietnamese community in Czech in different ways supported the anti-pandemic fight," said Lukas Musil.
Viet Nam is a priority partner in the Czech Republic's vaccine support policy. The Czech Republic is always willing to assist Viet Nam in the fight against COVID-19, he added.
In reply, Deputy Minister of Health Truong extended sincere thanks to the Government and people of the Czech Republic for the valuable gifts during this hard time.
Earlier, during a phone conversation with Vietnamese Prime Minister Pham Minh Chinh, Czech Prime Minister Andrej Babis announced his country would donate 250,000 vaccine doses to and share some other 500,000 doses with Viet Nam.
Viet Nam has so far received roughly 27 million doses of COVID-19 vaccines from various sources, including over three million doses of Pfizer, 17 million doses of AstraZeneca, more than five million doses of Moderna, 12,000 doses of Sputnik-V, and 2.5 million doses of Sinopharm.
As of late August 30, the Southeast Asian country has administered 19,710,560 doses, with 2,524,407 people having been fully vaccinated./.
By Khanh Phuong