Viet Nam ready to welcome FDI waves
VGP – Although foreign direct investment (FDI) attraction showed signs of slowdown in the first four months of 2020, economic experts held that Viet Nam would welcome a new capital flow after the COVID-19 pandemic with many favorable opportunities.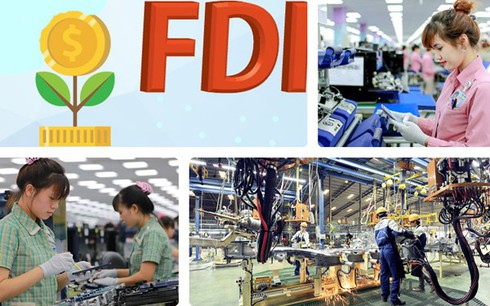 Viet Nam ready to welcome FDI waves
Between January and April, Viet Nam attracted about US$12.33 billion worth of FDI, equaling 84.5% of the figure recorded in the same period last year (including pledges for new projects, capital supplements and stake acquisitions). FDI disbursement dropped by 9.6% year-on-year to US$5.15 billion.
Among the 18 industries that received foreign investment during the period, manufacturing was the most attractive with approximately US$6 billion, followed by electricity production and distribution at US$3.9 billion, wholesale and retail at US$776 million, and real estate at US$665 million.
Experts attributed the decline in Viet Nam's four-month FDI attraction to the impact of COVID-19, but stated that the result remains positive as it is higher than the average value recorded between 2016-2018 and is only a slight decrease compared to other countries in the region.
Dr. Phan Huu Thang, former Director of Foreign Investment Agency under the Ministry of Planning and Investment, said that the pandemic has been slowing economic growth and foreign attraction in countries around the world, including Viet Nam.
However, Viet Nam's effective disease control has won high appreciation from the international community, which is considered an important pulling force to help the Southeast Asian nation attract more foreign investment after the pandemic.
Along with the success in COVID-19 prevention and control, the Government's synchronous implementation of policies to support the business community in overcoming difficulties will also be a plus point to boost Viet Nam's FDI attraction in the near future. After the pandemic, when the faith in Viet Nam has increased and travel restrictions have been lifted, the suspended investment plans will be restarted.
"Despite their increased caution, investors will continue to choose Viet Nam as their destination," Thang stated.
A recent survey conducted by the Japan External Trade Organization (JETRO) showed that 65.8% of Japanese enterprises in Viet Nam reported profits or no losses, while 63.9% of the surveyed enterprises are eyeing to expand their production and business activities in the next 1-2 years.
Hirai Shinji, Chief Representative of JETRO in Ho Chi Minh City, said that when Viet Nam takes good control of the disease and can overcome the pandemic with minimal losses, FDI inflows (including those from Japanese firms) will continue to be poured into the country.
According to Adam Sitkoff, executive director of the American Chamber of Commerce in Ha Noi, Viet Nam remains a promising investment destination in Asia following the Government's efforts to renovate the business investment and facilitate integration in recent years.
Viet Nam has been highly appreciated by countries regarding its effective disease control over recent times. Meanwhile, transnational corporations are considering shifting their investment, which is a great opportunity for Viet Nam./.
By Vien Nhu