Viet Nam ranks second in green bond issuance in ASEAN
VGP - Viet Nam incurred green, social, and sustainability (GSS) debts of US$1.5 billion in 2021, five times higher than the previous year and ranking second in green bond issuance among ASEAN Member States.
June 21, 2022 8:34 PM GMT+7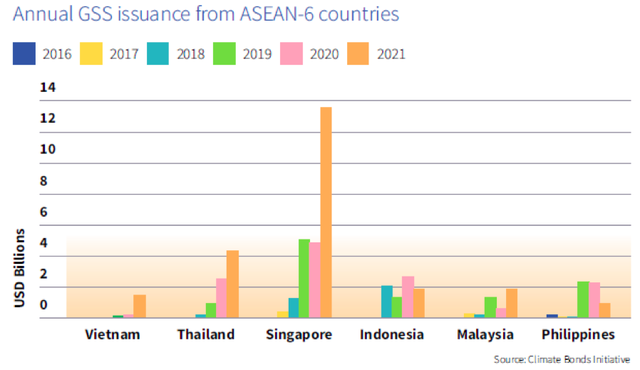 The figure was announced in the ASEAN Sustainable Finance–State of the Market 2021 report which was released by Climate Bonds Initiatives (CBI) and HSBC.
According to the report, the sustainable debt market in ASEAN's six largest economies of Singapore, Thailand, Indonesia, Malaysia, the Philippines and Viet Nam continued growing rapidly in 2021.
The majority of green bonds and loans in Viet Nam in 2021 came from the transportation and energy sectors.
According to HSBC, Viet Nam's bond market grew to over US$70 billion in 2021. More than 80 percent of the bonds issued were government bonds, while development banks were the second largest issuer.
In late 2020, the National Assembly of Viet Nam passed the Environmental Protection Law with major changes compared to the previous version.
HSBC Viet Nam CEO Tim Evans expressed his impression of Viet Nam's significant GSS debt growth in 2021.
Evans pointed out that all forms of sustainable finance aim to help Viet Nam achieve its net zero carbon emission by 2050, expecting the demand for green capital to increase further in the coming time.