Viet Nam persists with pandemic countermeasures, maintains macro-economy
VGP - Prime Minister Pham Minh Chinh on October 13 chaired a webinar discussing measures to boost post-pandemic economic recovery, flexibly adapt to the COVID-19 pandemic, overcome economic disruption and strengthen locality-to-locality connectivity.
October 13, 2021 8:33 PM GMT+7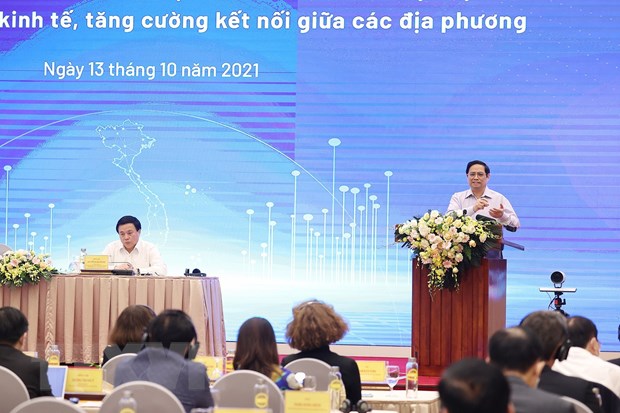 Prime Minister Pham Minh Chinh speaks at the event
Co-hosted by the Party Central Committee's Theoretical Council and the Ho Chi Minh National Academy of Politics, the event was connected between Ha Noi and the Party Committees of 63 cities and provinces nationwide.
Participants said that over the past year, Viet Nam has well controlled the pandemic and maintained socio-economic development.

However, the pandemic remains complicated and unpredictable and Viet Nam is facing a wide range of heavy consequences in all aspects of the socio-economic life, they said.
Leaders of localities and businesses shared effective anti-pandemic models as well as experiences in removing difficulties to overcome economic disruptions, towards achieving the dual goal in "new normal".

Foreign experts and representatives of international organizations in Viet Nam expressed their optimism about Viet Nam's development prospects.

They agreed with and put forth initiatives to boost economic recovery and flexibly and safely adapt to the COVID-19 pandemic, saying that policies need to be built and performed consistently from the central to local levels.
In his conclusion, PM Chinh asked agencies to collect feedback at the event to serve the building of policies and implementation of measures, towards flexibly and safely adapting to the pandemic.
He stressed that nobody is safe when others are still contracting COVID-19 and no country is safe when other nations in the region and the world are still fighting the pandemic.
As the pandemic will prolong in the country and the region, he asked for continuing with prevention and control measures, maintaining macro-economic stability, increasing supply to recover the labor market, and seeking ways to reduce input costs.
The PM said the Government will continue directing agencies and localities to ensure social welfare for residents, maintain social safety and order, tackle difficulties faced by enterprises, develop production and trade in the spirit of "harmony of interests and sharing of risks", contributing to the nation's socio-economic development./. VNA