Viet Nam officially exports fresh bananas to China
VGP - The Vietnamese Ministry of Agriculture and Rural Development and the Chinese General Administration of Customs signed a protocol requiring phytosanitary procedures for fresh bananas exported from Viet Nam to China on November 1.
November 02, 2022 9:24 PM GMT+7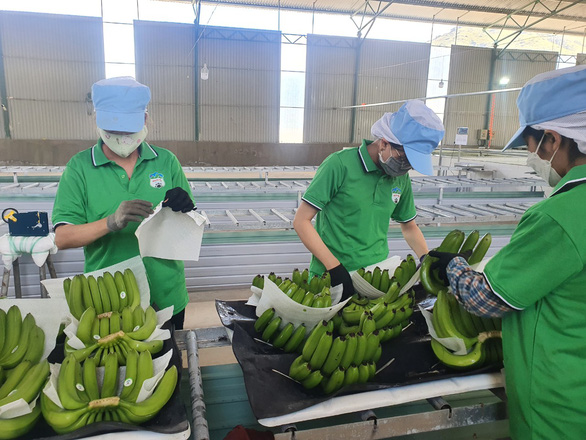 The protocol consists of eight articles detailing specific contents that will be in force for five years. Accordingly, fresh bananas exported from Viet Nam to China must be unripe and should be harvested within 10 to 16 weeks after flowering.
Under the document, producers and exporters must fully comply with regulations relating to phytosanitary, food safety, and traceability to export fresh fruit to the Chinese market,
Shipments from growing areas or packaging facilities that have not yet registered to have codes from the Ministry of Agriculture and Rural Development will not be licensed by the General Administration of Customs of China (GACC).
The growing area code is a necessary and mandatory condition in order to export fruits to China and is also one of the key factors relating to product traceability.
In the event that the Chinese side discovers infected consignments, it may refuse to import and destroy them, or apply phytosanitary treatment.
China will refuse or destroy all imported fruits containing residue of pesticides or other toxic substances which exceed their health and safety standards.
Statistics from the General Department of Viet Nam Customs indicated that the country's banana export value reached US$237 million in January-August, up 28 percent from the same period last year, mainly due to more shipments to China.
Viet Nam's production of bananas, which can be harvested all year round, average about 2.1 million metric tons a year, according to statistics of the Ministry of Agriculture and Rural Development.

In 2021, bananas were the country's third-largest export fruit, after dragon fruits and mangoes. China remained Viet Nam's largest vegetable and fruit importer during the period, purchasing US$1.06 billion worth of products, or 43.3 percent of the Southeast Asian country's total vegetable and fruit export value.
At present, Viet Nam boasts 11 kinds of fruits which are officially exported to China. Among them, Viet Nam has signed numerous Chinese protocols on phytosanitary requirements for four kinds of fruits namely mangosteen, passion fruit, durian, and banana../.