Viet Nam needs to diversify markets to boost exports: ADB Country Director
VGP - In the context of uncertain global economy, the Asian Development Bank (ADB) suggested Viet Nam diversify its markets to boost exports in 2023 and beyond.
April 06, 2023 10:11 PM GMT+7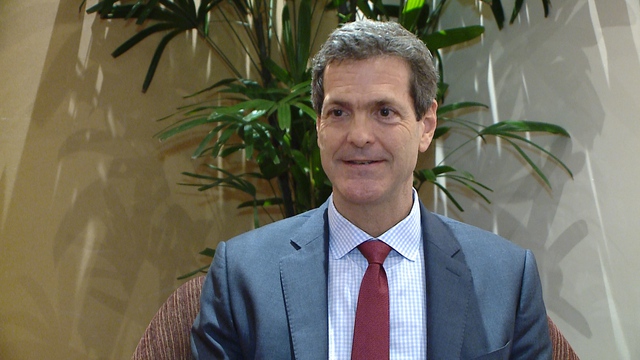 In a recent interview with VGP, ADB Country Director for Viet Nam Andrew Jeffries said that Viet Nam's exports are facing headwinds due to the global economic slowdown, adding that is a lot of external factors to Viet Nam and beyond Viet Nam's control.
Besides promoting exports to China and the U.S., the nation's top two trading partners, Viet Nam should consider expanding its export markets to ASEAN, which is also the country's fourth largest trading partner, as well as looking for opportunities with other countries such as Canada, Australia and New Zealand, he recommended.
In the longer term, Viet Nam needs to increase its productivity, and move up the value chain and strengthen capacity of its manufacturing and export-oriented businesses.
Viet Nam's GDP growth target for 2023 is achievable
Viet Nam's GDP growth reached 8.02 percent in 2022, a record high in the 2011-2022 period as the economy is recovering strongly, noted the ADB Country Director.
However, the nation faced some headwinds from the global economy, which occurred in the fourth quarter of 2022, have picked up pace this year. The below target growth for the first quarter of this year (3.32 percent) is mainly due to the global economic slowdown.
In addition, external factors such as continued geopolitical tensions, supply chain issues and commodity market pressure as well as some turmoil in the domestic capital market and corporate bond market are potential drags on growth this year.
Andrew Jeffries expressed his hope that Viet Nam's economy will be improved in the second half of this year thanks to the Government's measures to ease the monetary policy and its efforts in managing the growth scenario and financial market's stability.
Furthermore, Viet Nam shows very high targets for public disbursement, which is important for the industrial sector given construction had a little bit of contraction in the first quarter. The service sector shows strong growth this year and accounts for 3.5 percentage point of GDP growth.
Viet Nam's economy in 2023 is also boosted by a number of factors, including strong tourism growth and the reopening of the Republic of China that can be a boon for tourism as well as trade.
Thus, the ADB Country Director induced his belief that Viet Nam's GDP growth target of 6.5 percent for 2023 is achievable.


ADB Country Director for Viet Nam Andrew Jeffries talks about Viet Nam's economy forecast in 2023
Viet Nam-attractive investment destination for foreign investors
According to Andrew Jeffries, Viet Nam has been an attractive investment destination for foreign investors owing to its growing economy, growing middle class, increased purchasing power and a lot of new-generation free trade agreements with many countries.
There has been a slowdown in FDI attraction in the first quarter, but it is not a real concern because the slowdown is not steady.
The biggest-ever U.S. business delegation travelled to Viet Nam last month, showing a lot of interest in pouring more FDI into Viet Nam and investing in clean energy in line with Viet Nam's commitment to net-zero emissions.
Not only Asian countries but also many other countries are also on the upswing in business environment so that Viet Nam needs to improve its business environment as well together with proposing conducive transparent and predictable investment policies, maintaining macro-economic and political stability, and continuing to upgrade infrastructure.
FDI investors need a growing intermodal transport infrastructure, digitalization of customs services and access to clean energy, said the ADB Country Director, suggesting Viet Nam consider these factors alongside its own net-zero commitment.
The country needs very large investments in energy supply because it is growing very fast so that its demand for energy and electricity is growing very fast, too.
For fostering the development of green economy and clean energy, Viet Nam should consider applying new technologies and address a different set of technical challenges.
Over the last three decades, the country has successfully built out its infrastructure and met demands for electricity across the nation. Almost 100 percent of Vietnamese people has full access to electricity.
In the near-term, it is crucial that Viet Nam should upgrade and make more investment in its transmission system to enable clean and renewable energy sources to come on quickly, recommended Andrew Jeffries.