Viet Nam may become a food innovation hub of Asia
VGP - Viet Nam actively contributes to expediting the transformation of global food systems and is likely to become a food innovation hub of Asia.
April 27, 2023 12:01 PM GMT+7
A "responsible, transparent, and sustainable" food provider …
Viet Nam hosts the 4th Global Conference of the One Planet Network's Sustainable Food System Programme (SFS Programme) from April 24 to 27. The conference is expected to review challenges in the transformation of food systems.
The event will enable diverse stakeholders to showcase early signs of success in implementing the United Nations Food Systems Summit (UNFSS) results, including by presenting tools and techniques that deal with interdependencies and trade-offs of the food systems challenges, allowing the sharing of lessons and experiences, with the goal of strengthening alliances and impactful initiatives that can deliver concrete actions in support of National Pathways.
This global event will also discuss food system challenges and peer-to-peer learning and sharing of experiences from across the globe, emphasizing Asian region country participation.

The host of such an important conference comes as Viet Nam's agriculture sector is carrying out a strategy on sustainable agricultural and rural development in the 2021-2030 period, with a vision to 2050. The Strategy is an important policy document for Viet Nam's sustainable agriculture and rural development sectors and was approved by the Prime Minister by Decision 150/QD-TTg dated January 28, 2022. The main objectives of the Strategy include building a commodity-producing agricultural sector while developing specific agriculture plans based on local advantages, with high productivity, quality, efficiency, sustainability; increasing competitiveness to make Viet Nam a leading country in the region and in the world; firmly ensuring national food security; making an important contribution to socio-economic stability; preventing and controlling natural disasters and epidemics; protecting the environment; and responding to climate change, by efficiently implementing international commitments on reducing greenhouse gas emissions.

Viet Nam also looks forward to contributing to the construction of the global food safety system as a nation and as a "responsible, transparent, and sustainable" food provider. The country has offered initiatives such as: (i) linking between domestic and cross-border innovation networks to serve for the goal of becoming a Food Innovation Hub of Asia, (ii) advancing the use of digital technology and tap the achievements of the 4th Industrial Revolution in order to develop smart agriculture value chains and (iii) transforming the food systems into "green", sustainable and low-emission models to help attaining SDGs (The Government of Viet Nam affirms its participation in the programme "100 million farmers: transition to a net-zero and environmentally friendly food system", a multistakeholder platform catalyzing action to transition to net-zero, nature-positive food systems by 2030).
To become a Food Innovation Hub of Asia
Rich or poor, young or old — every person living in this planet needs to eat. Safe and nutritious food provides not only life and health, but hope. Despite the remarkable achievements in eradicating poverty and promoting sustainable development around the world, we are yet faced with a myriad of formidable challenges. These include the unpredictable consequences of climate change, the increasing scarcity of resources for agricultural production, and the hurdles in transforming food systems via the greater use of advanced technology. The COVID-19 pandemic has further amplified the problems within global food systems and brought about new obstacles to sustainable development.
Many of the world's food systems were fragile and not fulfilling the right to adequate food for all, hunger has been on the rise again. Three billion people — almost half of humankind — could not afford a healthy diet for themself. The journey has profoundly affirmed that our food systems hold the power to realize our shared vision for a better world, where we can see the end of starvation and ensure access by all people, in particular the poor and people in vulnerable situations, including infants, to safe, nutritious and sufficient food all year round.
As one of the countries most vulnerable to climate changes, Viet Nam understands the urgent task it is facing now is to bolster and further enhance international cooperation to address challenges posed by climate change, including hunger, poverty and nutrition security for its people and contribute to the final success of the SDG-2.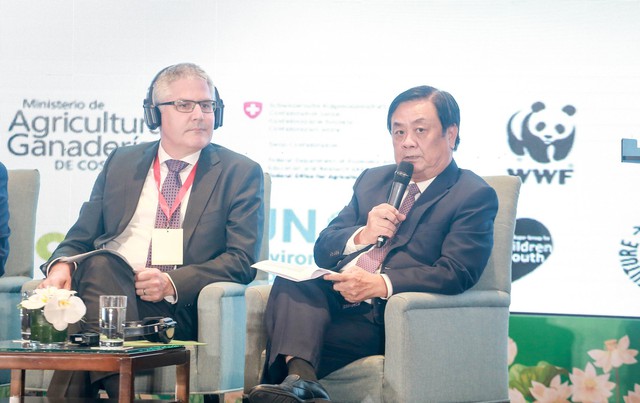 At the conference, the Minister of Agriculture and Rural Development of Viet Nam proposes 5 solutions to promote food system transformation, namely:

Reviewing, evaluating and enhancing mechanisms, policies, processes, standards and regulations for food production, processing and consumption with emphasis on transparency, responsibility and sustainability;
Developing the input supply system for agricultural production towards transparency, responsibility and sustainability;
Evolving agricultural production towards transparency, responsibility and sustainability;
Moving a food processing and distribution system towards transparency, responsibility and sustainability; and
Promoting food consumption practices towards transparency, responsibility and sustainability.
The Minister also added that the transformation in food systems must be associated with the advancement of agroecology, the integration of multiple values, increased competitiveness, increased resilience to shocks, improved product reputation.
By fulfilling the task, working closely with partners, research centres, experienced scientists is a must-do approach in order to continue to receive valuable support, not only in knowledge but also in resources.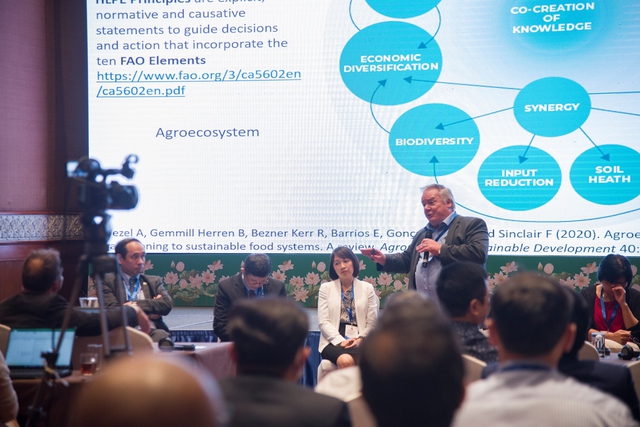 For example, in line with the comment made by Minister Hoan on the transformation in food systems must be associated with the advancement of agroecology, a side event on "Harnessing the potential of agroecology in Southeast Asia to transform food systems to become sustainable" was successfully co-organized by the Viet Nam Academy of Agricultural Sciences, Institute of Policy and Strategy for Agriculture and Rural Development, FAO (the Food and Agriculture Organization), ICRAF (a centre of science and development excellence that harnesses the benefits of trees for people and the environment) and other partners. The event helped to explore agroecological innovations and initiatives as key approach for food system transformation which positively impacts a range of Sustainable Development Goals (SDGs). This event is to be a milestone towards building a regional agroecology coalition. Besides, in the process, it is to build capacity and improve awareness on agroecological approach and actions towards sustainable food systems. And as Vice-President of Viet Nam Academy of Agricultural Sciences, A/Prof. PhD. Dao The Anh, said: "Viet Nam is now playing a very active role in initiating the agroecological network in the Southeast Asian Region for sharing experiences related to the development of agroecology".

As world leaders, scientists, researchers and advocates meet at the 4th Global Conference in Hanoi to further promote the food systems approach and inclusive governance and collaboration at all levels to foster their uptake for the development of multi-sectoral action plans towards sustainable consumption and production in food systems, Viet Nam may benefit from key results of this important Global Conference, including: (i) Evidence-based recommendations on a range of transformational actions to refine, and achieve integration across National Pathways, climate NDCs, CBD targets and the broader SDGs, and increase implementation with a focus on inclusive governance and collaboration, integrated policies and means of implementation; (ii) Update of progress/commitments/new processes by countries and other stakeholders on National Pathways and other food systems transformation actions; and (iii) Strengthen the UNFSS 'Ecosystem of Support' and its linkages to the SFS Programme. The country may also base on the successful organization of this event to serve for its greater goal: TO BECOME A FOOD INNOVATION HUB OF ASIA as the Vietnamese Government proposed during a pre-summit of UNFSS 2021./.