Viet Nam, France issue Joint Statement
VGP – Viet Nam and France has issued Joint Statement on the occasion of Prime Minister Pham Minh Chinh's official visit to France from November 3-5 at the invitation of French Prime Minister Jean Castex.
November 05, 2021 8:40 PM GMT+7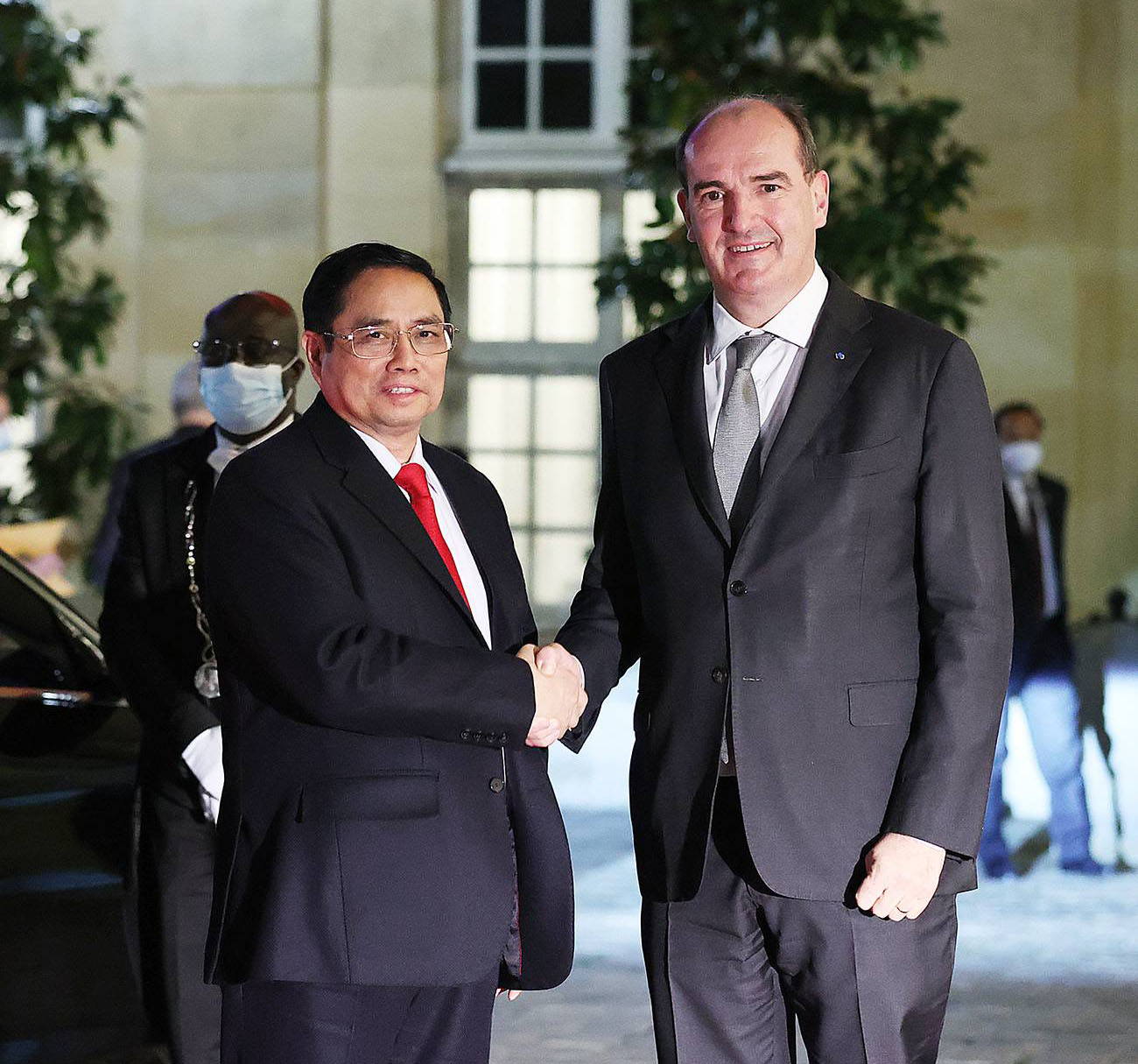 Prime Minister Pham Minh Chinh and French counterpart Jean Castex, Paris, France, November 3, 2021
First of all Viet Nam and France affirm their solidarity in the fight against the COVID-19 as well as the importance of advancing fair and equitable access to COVID-19 vaccines and medicines.
The two sides encourage public agencies and private sectors of the two countries to establish new partnerships and strengthen exchanges in a bid to promote bilateral pharmaceutical cooperation.
The COVID-19 pandemic highlights the need for enhanced international cooperation in monitoring and preventing emerging infectious diseases from animals.
Viet Nam and France reaffirm their wish to further strengthen cooperation against common challenges. The two countries underline the importance of multilateralism with the United Nations at the center.
Both sides especially underline the importance of fostering and protecting human rights and basic rights to freedom for the development of each country.
On climate change, the two sides reaffirm their wish to enhance cooperation as well as their resolve to boost sustainable development in line with the spirit of the 2030 Agenda for Sustainable Development.
Both sides emphasize the importance of support for developing countries in realizing ambitious national goals under the Paris Agreement on climate change.
For defense and security cooperation, the two sides reaffirm their resolve to create new impetus for bilateral defense and security ties.
Viet Nam and France reaffirm their full respect for the 1982 United Nations Convention on the Law of the Sea and for peaceful resolution of disputes.
The two countries affirm the importance of maintaining safety and freedom of navigation and aviation across all the oceans and seas, especially the East Sea on the basis of abiding by the principles of international law.
The two sides support efforts by ASEAN and China in the implementation of the Declaration on the Conduct of Parties in the East Sea (DOC) and in formulation of an effective and practical Code of Conduct in line with international law, especially the 1982 United Nations Convention on the Law of the Sea.
The two sides affirm the importance of full and expeditious implementation of the EU-Viet Nam free trade agreement which took effect from August 2020.
The two sides consider local-to-local cooperation a pillar of the bilateral ties./.
By Huong Giang