Viet Nam emerges as attractive investment destination, says EC
VGP - Prime Minister Pham Minh Chinh on Thursday hosted a reception for Vice President of the European Commission cum EU Trade Commissioner Valdis Dombrovskis who is on a working visit to Viet Nam.
November 02, 2023 6:10 PM GMT+7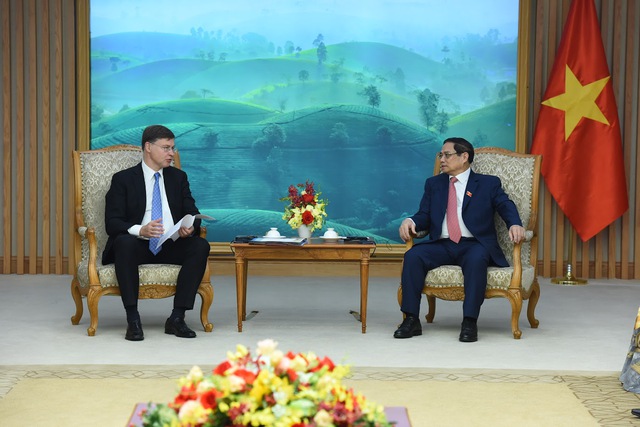 Both Prime Minister Pham and EC Vice President Valdis Dombrovskis expressed their pleasure at the big leaps foward in the bilateral ties.

The EU remains the fourth largest trading partner of Viet Nam after China, the U.S. and South Korea and the third largest export market and fifth import market of Viet Nam.
Viet Nam is the biggest trading partner of the EU in ASEAN, with the two-way trade turnover hitting US$62.4 billion in 2022.
The EU is the sixth biggest FDI provider in Viet Nam with 2,535 valid projects worth over US$29 billion as of late September.
The Vietnamese Government chief thanked the EU for providing EUR210 million (over US$237.6 million) in non-refundable aid over four years of 2021-2024 for Viet Nam.
He suggested the two sides spur the exchange of delegations, accelerate cooperation in green growth, digital transformation, sharing economy, building and perfecting institutions, and training human resources.
Pham suggested the EU strengthen support for Viet Nam to implement the EU-Viet Nam Free Trade Agreement (EVFTA); continue to offer more favorable conditions for Vietnamese goods, especially agricultural and aquatic products, to enter the EU market in a bid to soon raise the two-way trade to US$100 billion.
He urged the Vice President to call on the remaining EU member countries to soon ratify the EU-Viet Nam Investment Protection Agreement (EVIPA), and the EC to soon remove its "yellow card" against Vietnamese seafood exports.
Pham committed to creating the best conditions for EU businesses to do long-term business in Viet Nam and enable them to engage in such areas as digital transformation, energy transformation, sustainable development, response to climate change, high technology, and logistics infrastructure.

In reply, EC Vice President Valdis Dombrovskis said that Viet Nam remains an important partner of the EU in general and its members in particular.
Valdis Dombrovski said that 15 EU member states have approved the EVIPA and the process will be accelerated in the coming time. The EU will work with Viet Nam to resolve IUU-related issues.
The Vice President also praised the efforts and contributions of Viet Nam to international issues in her capacity as a member of the United Nations Human Rights Council and United Nations peacekeeping operations.
He highlighted the importance of ensuring security and safety of aviation and navigation, peacefully resolving disputes and differences on the basis of international law, especially the 1982 United Nations Convention on the Law of the Sea (UNCLOS 1982), fully implementing the Declaration on the Conduct of Parties (DOC) in the East Sea, and early formulating a Code of Conduct in the East Sea (COC)./.