Viet Nam doubles effort to early repatriate imperial seal
VGP - The Ministry of Foreign Affairs and relevant sides are actively finalizing necessary procedures to bring the Nguyen Dynasty's imperial seal 'Hoang de chi bao' (Treasure of the Emperor) from France to Viet Nam as soon as possible, said Foreign Ministry Spokesperson Le Thi Thu Hang.
November 18, 2022 10:28 PM GMT+7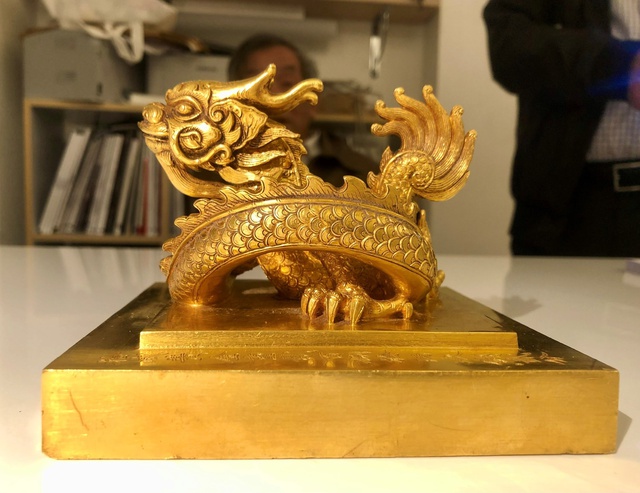 The Spokesperson made the above statement at a regular press conference of the Ministry of Foreign Affairs in Ha Noi on November 17.
The Ministry of Foreign Affairs, the Vietnamese Embassy in France and the Delegation of Viet Nam to UNESCO have worked on all channels to put forward interventions to stop the auction of the seal.
They exchanged diplomatic letters and notes; officially contacted and met with the diplomatic advisor of the French President, the French Ministries of Foreign Affairs, and of Culture, UNESCO leaders, and other relevant specialized departments.
"We have also discussed with the French auction house Millon and consulted organizations specializing in cultural and artistic heritage, and individuals involved to acquire information and notify relevant agencies in Viet Nam, creating a basis for negotiations," said the diplomat.
Earlier, on October 19, Millon announced its auction of 329 antiquities, including two dating back to the Nguyen Dynasty (1802-1945) – a golden seal made in 1823 under the reign of King Minh Mang (1820 - 1841) and a golden bowl made under the reign of King Khai Dinh (1917-925).
On November 14, the Ministry of Culture, Sports and Tourism (MCST) said that the sides agreed to carry out relevant legal processes and procedures for the repatriation of the seal to Viet Nam in accordance with the laws of both nations, in the spirit of their mutual understanding and the Viet Nam-France friendship and relationship.
According to the Department of Cultural Heritage under the MCST, the determination to repatriate the seal aims to not only recover lost antiquities and cultural heritages but also affirm the country's stature and influence, helping affirm the Party and State's viewpoint on preserving and bringing into play the cultural heritage values, develop an advanced culture deeply imbued with the national identity of Viet Nam, and contribute to the world's cultural heritage.
This is highly meaningful to safeguarding the integrity of cultural heritage – an important issue that UNESCO pays great attention to in cultural heritage preservation, and also demonstrates Viet Nam's role in implementing the international conventions to which it is a party./.