Viet Nam, Dominica sign visa exemption agreement
VGP - Viet Nam and Dominica signed an agreement on visa exemption for diplomatic and official passport holders.
September 23, 2023 2:32 PM GMT+7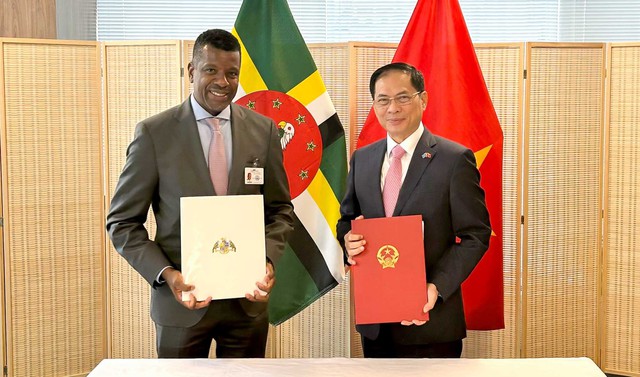 The agreement was inked by Vietnamese Foreign Minister Bui Thanh Son and Dominican Minister for Planning, Economic Development, Climate Resilience, Sustainable Development, and Renewable Energy Vince Henderson in New York on September 22 on the sidelines of the ongoing 78th session of the United Nations General Assembly.
At the two ministers' meeting, the Vietnamese FM suggested both nations enhance close coordination, increase bilateral delegation exchanges, and facilitate their businesses to promote linkages and seek for investment opportunities.
Bui underlined the need to promote negotiations on double taxation avoidance agreement and other cooperation deals in science, technology, education and agriculture, thus making active contributions to fostering the bilateral ties.
Vince Henderson, for his part, said, Dominica attaches importance to and expects to strengthen the relationship with Viet Nam, adding that the signing of the visa exemption agreement is a crucial step forward in the bilateral relations.
He expressed his belief that thanks to efforts from both sides, the relationship will growth robostly in the time ahead.
Both sides vowed to foster coordination and mutual support at multilateral forums and international organizations, especially at the UN.
They pledged to work together to foster collaboration between Viet Nam and countries in the Caribbean Community (CARICOM) and between Dominica and the ASEAN Member States./.