Viet Nam confirms 53 new community cases of COVID-19 in four localities
VGP – The Ministry of Health has just reported 53 new community cases of COVID-19, bringing the number of cases on Friday to 62.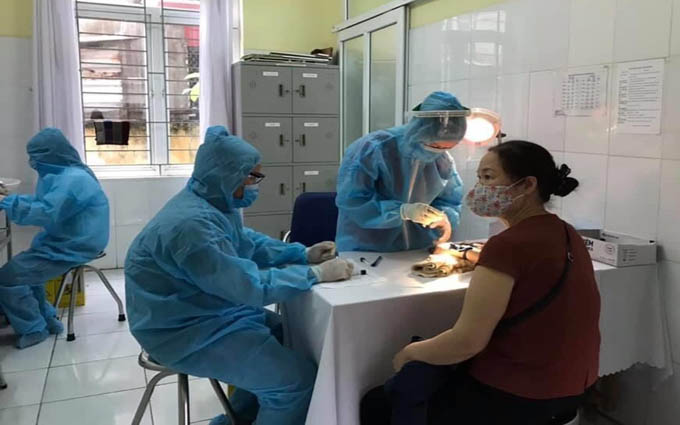 Viet Nam reports 149 community infection cases of COVID-19 since January 25.
>>> Health Minister urges establishment of three field hospitals in Hai Duong
The figure was released at a meeting of the National Steering Committee for COVID-19 Prevention and Control this afternoon.
The latest cases include 47 in Hai Duong Province, three in Quang Ninh Province, two in Ha Noi and one in Bac Ninh Province.Since January 25, the total community-transimitted cases rose to 149 in five cities and provinces (130 in Hai Duong, 15 in Quang Ninh, three in Ha Noi and one in Hai Phong).
In Hai Duong, 126 out of current 130 cases are linked to the Viet Nam Poyun Electronics Co., Ltd. in Cong Hoa commune, Chi Linh City and the four linked to Chi Linh Medical Center.
Hai Duong authorities have collected 4,890 samples, including 1,936 at the aforesaid company.
The Ministry of Health said will continue zonining off the affected areas and scale up COVID-19 testing in the locality.
In Quang Ninh, all the community cases are linked to patient 1552 who is a security staff at the Van Don International Airport.
Local authorities have identified 851 people, including 466 persons who have came in direct contact with the reported patients.
The latest case in Hai Phong had travel record to Hai Duong Province.
In Ha Noi, authorities have identified and tested 93 people who have came in close contact with the latest COVID-19 patients.
So far, Viet Nam has confirmed 1,704 COVID-19 cases, of whom 1,430 have recovered and exited hospitals and 35 have been reported dead./.
By Quang Minh