Viet Nam commits to working with ASEAN nations in transitional crime prevention
VGP – Viet Nam commits to actively and responsibly taking part in cooperative frameworks of ASEAN in general and coordinating in prevention and control of transnational crime in particular.
September 30, 2021 11:13 AM GMT+7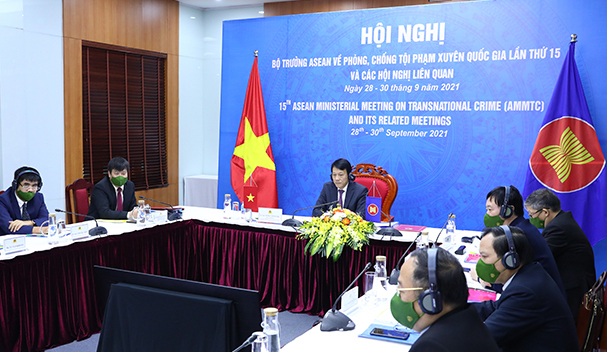 Deputy Minister of Public Security Luong Tam Quang attends 15th ASEAN Ministerial Meeting on Transnational Crime (AMMTC) and its related meetings, September 29, 2021 - Photo: VGP
Vietnamese Deputy Minister of Public Security Luong Tam Quang made the above statement on September 29 at the 15th ASEAN Ministerial Meeting on Transnational Crime (AMMTC) and its related meetings.
At the 15th AMMTC, which was held virtually, ASEAN nations agreed to resume consultancy meetings with three dialogue partners including China, Japan and the Republic of Korea to continue consolidating and promoting collaboration in the fight against transitional crime as well as handling arising non-traditional challenges in the region.
The Vietnamese Deputy Minister proposed nations in the region maintain and strengthen cooperation on the basis of building "political trusts" in combating transnational crime.
ASEAN nations should focus on enhancing cooperation in border management and cyber security and preventing criminals from taking advantages of COVID-19 outbreaks to increase cross-border and cyber illegal activities, he said.
He stressed the need to establish a hotline and an online communication mechanism and improve the effectiveness of information and experience exchange relevant to transitional crime prevention.
Luong suggested boosting cooperation with country partners and dialogue partners of ASEAN in advancing capacity for law enforcement officials and supporting technical equipment serving for transnational crime prevention work.
The Vietnamese official called on partner countries to support ASEAN in containing COVID-19, provide vaccines and improve vaccine production capacity and technology transfer, asking to boost negotiations and signing of cooperative documents and agreements on transnational crime prevention and control within bilateral and multilateral frameworks.
Public Security officials at the 15th AMMTC reached a conclusion on solutions to realize targets set in the ASEAN action plan on preventing and combating transnational crime during the 2016-25 period.
They adopted the ASEAN Declaration on Preventing and Combating Transnational Crime in the post- pandemic period proposed by the host Brunei.
By Thuy Dung