Viet Nam commits to protect legitimate interests of investors
VGP – Viet Nam commits to creating favorable conditions for and protecting legitimate interests of investors in accordance with legislation and international agreements to which the country is a signatory, stated President Vo Van Thuong.
April 27, 2023 3:24 PM GMT+7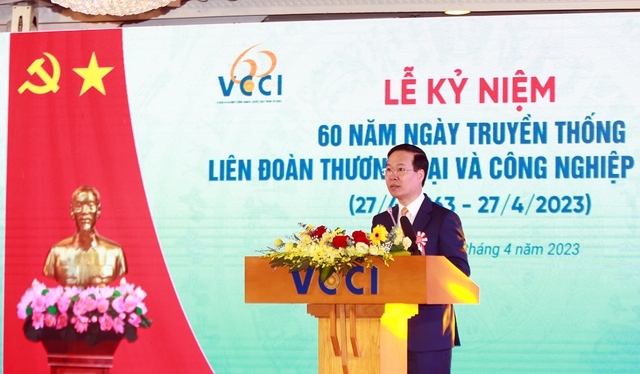 President Vo made the above statement at the 60th founding anniversary of the Viet Nam Chamber of Commerce and Industry (VCCI) in Ha Noi on Wednesday.

In a bid to realize the goal to become a developed country with high income by 2045, Vo emphasized that it is necessary to have a strong contingent of entrepreneurs who play the pioneering role in the course of industrialization and modernization, contributing to improving the quality, effectiveness and competitiveness as well as ensuring the independence and self-reliance of the economy.
He also underlined the need to remove all obstacles and prejudices and to create favorable conditions in favor of the development of private business sector capable of competing on global stage.
The recent prosecution of some businesses and individuals who violate laws is a must as it aims to create a healthy, fair and transparent business environment and to remove corrupt cadres and employees from the State agencies, according to the President.
Regarding foreign investment, he emphasized that foreign-invested enterprises have become an important integral component of the business community and the economy of Viet Nam.
At present, Viet Nam is home to nearly 30,000 foreign-funded enterprises and they are making significant contribution to economic growth and transformation in Viet Nam.
Viet Nam is set to continue speeding up the process of industrialization and modernization and international integration, which offers opportunities for foreign enterprises to expand investment in the Southeast Asian country, reiterated Vo.
Founded in 1963, VCCI has more than 200,000 member enterprises and 200 business associations nationwide./.