Viet Nam, China and Russia promote intermodal freight transportation
VGP - A workshop was held in Moscow on Wednesday to explore the potential of the Viet Nam-China-Russia intermodal freight route.
November 16, 2023 8:09 PM GMT+7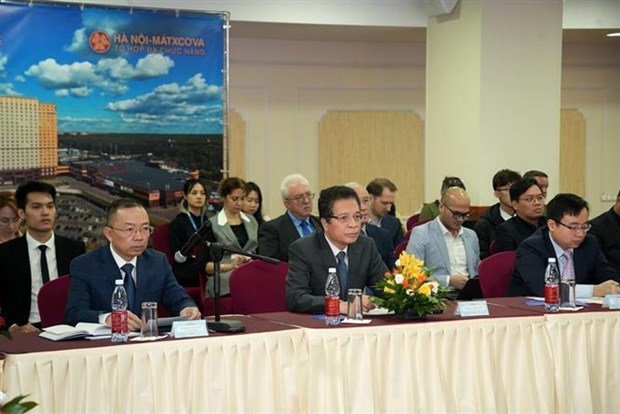 The event was hosted by the Vietnamese Embassy in Russia in both in-person and online format, with the participation of 200 delegates from relevant agencies of the three countries.
It served as a platform for both businesses and government agencies to gain a comprehensive understanding of the potential of the intermodal freight route.
The Vietnam-China-Russia intermodal rail corridor holds significant promise, particularly with Vietnam emerging as a logistics hub in Southeast Asia. This rail network not only strengthens the transportation of goods from ASEAN countries to Russia but also facilitates the movement of essential cargo from Russia to Southeast Asia.

Despite its potential, competition from maritime transport routes and Vietnam's current rail infrastructure limitations have contributed to the relatively low volume of freight transported from Vietnam to Russia. In 2022, economic difficulties led to a decrease in rail transport of goods from Vietnam to Russia, dropping from 1,500 to 1,015 containers.
The average annual rail transport of 555 containers from Vietnam to Russia from January to October 2023 underscores the challenges faced. Additionally, the cost of rail transport, currently around US$7,000 per container from Vietnam to Moscow, is higher than maritime transport, which is priced at US$5,000 per container.
Roman Andropov, head of Business Development at the Russian Railways Logistics' Vietnam Branch, highlighted ongoing efforts to maintain and increase rail transport volumes. Despite economic challenges, Russian Railways Logistics remains committed to overcoming existing obstacles through collaboration with China and Vietnam, with a focus on the intermodal freight corridor, known for its advantages in transportation time and cargo safety.
Ambassador Dang Minh Khoi emphasized the importance of increased attention to the intermodal rail corridor, given its potential to enhance transportation efficiency and cargo safety./.