Viet Nam calls for strengthening inter-sectoral, inter-pillar coordination in ASEAN
VGP - Viet Nam suggests ASEAN enhance coordination between sectors and pillars, and its response capacity to such challenges as COVID-19, climate change, and maritime issues, Vietnamese Minister of Foreign Affairs Bui Thanh Son said on October 4.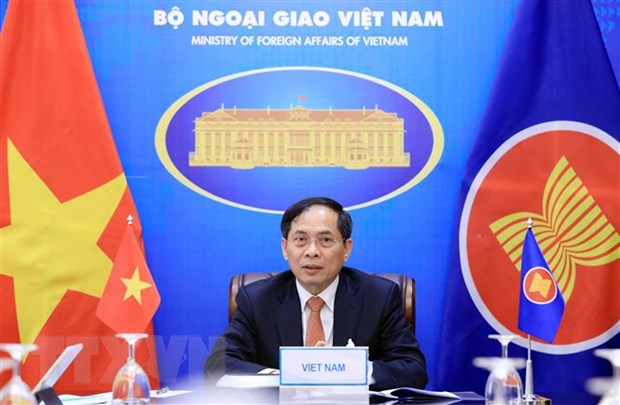 Vietnamese Minister of Foreign Affairs Bui Thanh Son. Photo: VNA
Bui made the remarks while attending ministerial meetings ahead of the 38th and 39th ASEAN Summits and Related Summits.
The 24th ASEAN Political-Security Community Council (APSC) Meeting, the 30th ASEAN Coordinating Council (ACC) Meeting and the ASEAN Foreign Ministers' Meeting (AMM) took place virtually under the chair of Brunei, the current ASEAN Chair.
Viet Nam has played an active role in realising ASEAN's priorities in 2021, and will closely coordinate with other countries to make the upcoming meetings a success, minister Bui said.
For the pandemic fight, Viet Nam suggests ASEAN improve its self-reliance in vaccines by building a regional supply chain, he said, stressing that Viet Nam will joint efforts to accelerate the establishment and operation of the ASEAN Centre for Public Health Emergencies and Emerging Diseases (ACPHEED).
On this occasion, the minister announced the organisation of the ASEAN forum on sub-regional cooperation towards sustainable development and inclusive growth in Ha Noi on November 30.
Pointing out challenges to ASEAN and the region, Bui said ASEAN should keep a close watch on developments, and maintain solidarity and self-resilience, as well as its centrality and independence.
At the same time, ASEAN should maintain a harmonious approach that keeps its stance and principles towards issues affecting regional peace and security, while encouraging its partners to actively engage in ASEAN-led mechanisms.
Regarding the East Sea issue, the minister reiterated the importance of promoting trust, exercising self-restraint, and settling disputes peacefully in line with international law, including the 1982 United Nations Convention on the Law of the Sea (1982 UNCLOS).
He proposed the ten-member grouping continue its close coordination with China to ensure the full and effective implementation of the Declaration on the Conduct of Parties in the East Sea (DOC), and build an effective and substantive Code of Conduct in the East Sea (COC) that is consistent with international law and the 1982 UNCLOS.
For the situation in Myanmar, Bui applauded the first humanitarian batch to the country, and expressed his hope that Myanmar will create optimal conditions for the ASEAN Special Envoy to fulfill his tasks in the country.
At the 30th meeting of the ACC, ASEAN countries agreed to use US$10.5 million from the COVID-19 fund to buy vaccines, striving to deliver the first batch of vaccines for the countries in the fourth quarter of this year or the first quarter of 2022./. VNA