Viet Nam begins Asian Games campaign with a win over Mongolia
VGP — Viet Nam, seeking a first ever Asian Games medal, defeated Mongolia 4-2 in Group B on September 19 in Hangzhou, China.
September 19, 2023 4:32 AM GMT+7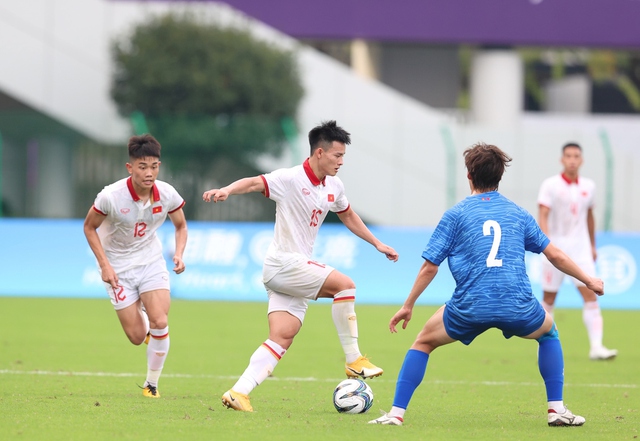 Nguyen Quoc Viet scored a brace before a goal from Khuat Van Khang pushed Viet Nam ahead in the first half of the Group B match.

Uuganbat Temuulen narrowed the gap for Mongolia minutes after the break before Vo Nguyen Hoang added one goal for Viet Nam in the 64th minute.
Purevsuren Uuganbayar netted the second goal for Mongolia near the end of the match, punishing Vietnamese goalkeeper Quan Van Chuan who failed a clearance.
The win place Viet Nam at the leading place of Group B with three points, ahead of Iran and Saudi Arabia who drew 0-0 in the later game. These two teams are among the strongest teams in Asia.
Viet Nam will next meet Iran on September 21 while Mongolia will play Saudi Arabia.
Coach Hoang Anh Tuan however was not happy with his players' performance.
"I am really angry with players. They made foolish mistakes causing unwanted yellow cards and conceded goals," said Tuan.
"It seemed that my players loosed their focus when Việt Nam led 3-0. They made mistakes that I have previously warned them throughout preparation for this tournament.
"These bookings and goals will affect our match and even our competition. All team will have to review their performance and fix their mistakes ahead of the upcoming matches," he said.
Tuan, who guided Viet Nam to the World Cup U20 in 2017, said the next matches would be tough for his team. Iran and Saudi Arabia were in higher level and more experienced that the Vietnamese who were among the youngest squad in China event.
"We should not scare of anyone. We respect our rivals but we need to bring into play our strong points and fix our problems so that we can play well against them," Tuan said.
Viet Nam is not set any target at this year Games but the youngsters are expected to qualify for the knockout stage.
In the previous Games five years ago in Indonesia, Việt Nam under South Korean coach Park Hang-seo set a milestone when they advanced to the semi-finals. The team lost 1-3 to South Korea which went on to win the championship trophy./.