Viet Nam bag martial art bronze in Asian Games' fourth day
VGP — Viet Nam took two bronze medals in the martial art competitions on September 27 during the 19th Asian Games in Hangzhou, China.
September 28, 2023 3:46 AM GMT+7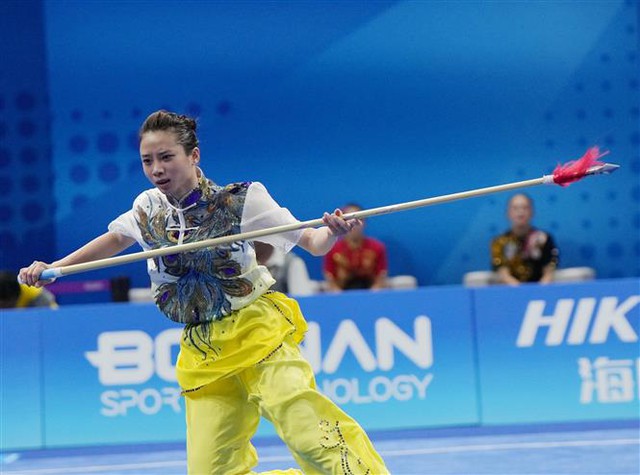 The first one went to wushu artist Duong Thuy Vi in the women's jianshu (straight sword) and qiangshu (spear) combined event at the Xianshan Guali Sport Centre.

The jianshu was organised in the morning session in which judges gave her 9.700 points for the sixth place among eight competitors.
The qiangshu was held in the afternoon session saw Vi's outstanding performance with 9.726 points for a second position.
Her strong comeback pushed Vi to the third place overall with 19.426 points.
The winner was Chinese Lai Xiaoxiao who earned 19.600 points, followed by Iranian Kiani Zahra with 19.436 points.
"I think that I did good job in the first performance. I just knew about my sixth place when friend messaged to encourage me," said Vi who won a world championship title in 2013 and World Games gold medal last year.
"I had no worry about it at all but kept my mind free and comfortable ahead of the second event. And I tried as well as I could.
"It was not easy to win an Asian Games medal. So even if I did not earn any medal I am happy with my good performance received no minus point," said Vi who won gold in this event in the previous Games in Indonesia in 2018.
At age 30, it will be Vi's last Games as an athlete but she would not want to say 'goodbye'.
"I have been practicing wushu for many years. It is not easy to stay aside. I will be back in a different role next time," said Vi who will compete in the Combat Game in Saudi Arabia next month and the world championship in November in the USA.
The second bronze went to Bac Thi Khiem in the women's 67kg category in taekwondo.
The Thai ethnic minority girl defeated Kim Jandi of South Korea who, won silver in the 2018 Games, in the quarter-finals for a berth in the last-four round.
However, the 23-year-old failed to overcome Song Jie of China in the semi-finals.
Khiem shared the third place with Chang Jui En of Chinese Taipei. And Song went on to beat Feruza Sadikova of Uzbekistan to take the gold.
"I was surprised and really excited with the bronze in my Asian Games debut," said Khiem.
"My South Korean rival owned powerful punches. My coaches noticed that and asked me to keep a distance with her and try to deliver my strong kicks to her to win.
"In the semi-finals, I tried my best but could not beat her. This bronze medal will be a motivation for me to do better in the upcoming tournaments," she said.
In other news, the national golf team begins their tournament on September 28.
In the men's side, four athletes Nguyen Anh Minh, Nguyen Nhat Long, Nguyen Dang Minh and Le Khanh Hung are Vietnamese representatives. Le Chuc An and Ngo Bao Nghi are to compete for the women's title.
Among them, Anh Minh is the Asian Faldo Series champion; Khanh Hung is the SEA Games and Lexus Challenge winner; and Chuc An is the national defending champion.
"Our players are young and practice professionally. They have taken part in international tournaments to sharpen their technique and earned remarkable results," said head coach Nguyen Thai Duong.
"Their abilities have been upgraded recently therefore we can expect positive results in the continental competitions. I believe that they will strongly develop in the near future."
The Vietnam Golf Association VGA has hung a huge bonus of VND1 billion in cash for any player who wins gold medal in Hangzhou.
The silver medalist will take VND500 million and the bronze medal winner will pocket VND300 million.
These will be the biggest bonus ever by the VGA in particular and the Viet Nam Team in general./.