Viet Nam attaches importance to promoting Strengthened Strategic Partnership with Thailand
VGP - President Nguyen Xuan Phuc reiterated that Viet Nam always attaches importance to promoting the Strengthened Strategic Partnership with Thailand, during his talks with Thai Prime Minister Prayut Chan-o-cha in Bangkok, Thailand on November 16.
November 17, 2022 10:23 PM GMT+7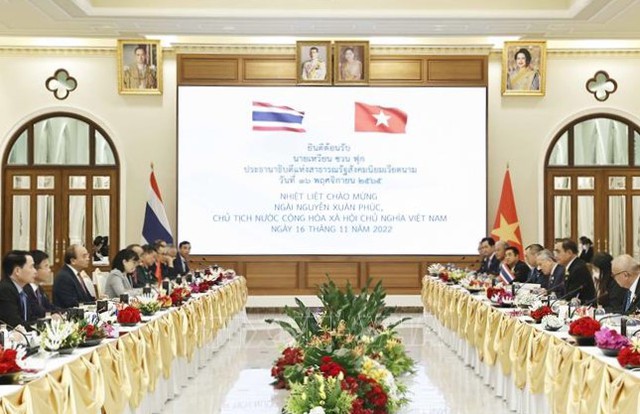 Nguyen spoke highly of Thailand's year-long hosting of APEC meetings 2022, asserting that Viet Nam will do its utmost to contribute to the success of the event.
He recommended Thailand restrict the application of trade remedies measures and facilitate Vietnamese farm produce to enter the Thai market.
The State leader proposed Thailand encourage their enterprises to expand operation in Viet Nam, particularly in fields of high-tech, digital economy, e-commerce, green energy and infrastructure, heading to use the local currency in bilateral payments.
The guest suggested the Thai Government and local authorities create favorable conditions for the Vietnamese community and preserve and promote the value of Vietnamese historical and cultural sites in the country.
For his side, the Thai PM emphasized the importance of the Vietnamese President's official visit, which takes place ahead of the 10th anniversary of the establishment of Viet Nam-Thailand Strategic Partnership, and would create a new impetus for both sides to foster collaboration in recovery and sustainable development.
He congratulated Viet Nam on its socio-economic development and recovery, noting that Viet Nam is always a crucial partner of Thailand in the region.
Both leaders lauded on the strong and dynamic development in the bilateral relationship, particularly in field of economic cooperation.
Thailand is currently the largest trade partner of Viet Nam in ASEAN with the two-way trade value of US$19 billion in 2021, up 18 percent against in 2020.
Over the last 10 months of this year, the bilateral trade value hit US$17.8 billion, a year-on-year increase of 16.9 percent.
Thailand has ranked ninth among 139 nations and territories investing in Viet Nam with 670 projects worth around US$13 billion.
In the first half of 2022, Viet Nam welcomed 40,000 visitors from Thailand while 130,000 Vietnamese traveled to Thailand.
Eighteen Vietnamese cities and provinces have signed cooperation agreements and twining relationship with Thai localities.
Regarding measures to upgrade the Strengthened Strategic Partnership, the host and the guest pledged to boost delegation exchanges at all levels, maintain bilateral cooperative mechanisms, especially the joint cabinet meetings co-chaired by the two PMs.
They vowed to join hands in effectively realizing the Plan of Action on Implementing the Thailand–Viet Nam Strengthened Strategic Partnership 2022–2027 and raise the bilateral trade to reach US$25-30 billion in a more balanced manner.
The two leaders voiced support for further advancing the Strengthened Strategic Partnership which aims to contribute to socio-economic resilience of both countries.
Via the "Three Connects" strategy, they affirmed commitment to connect both sides' supply chains, grassroots economies and sustainable growth strategies between Thailand's Bio-Circular-Green (BCG) Economy Model and Viet Nam's Green Growth Strategy.
Both leaders agreed to boost local-to-local cooperation, people-to-people cooperation and enhance exchanges between their Friendship Associations.
Regarding international and regional issues of mutual concerns, they pledged to coordinate in bolstering ASEAN of solidarity, self-reliance and upholding the central role of the bloc.
Both sides backed the establishment of a Mekong sub-region of connectivity, peace and prosperity and maintenance of ASEAN's principled stance on the East Sea issue.
They underscored the importance of maintaining peace, stability, safety, security and freedom of navigation and overflight in the East Sea in line with international law, including the 1982 United Nations Convention on the Law of the Sea (UNCLOS).