Vice President leaves for 2023 Global Summit of Women in Dubai
VGP - Vice President Vo Thi Anh Xuan is scheduled to leave Ha Noi on May 3 for Dubai to attend the 2023 Global Summit of Women and then visit the United Arab Emirates (UAE) and Qatar.
May 03, 2023 5:52 PM GMT+7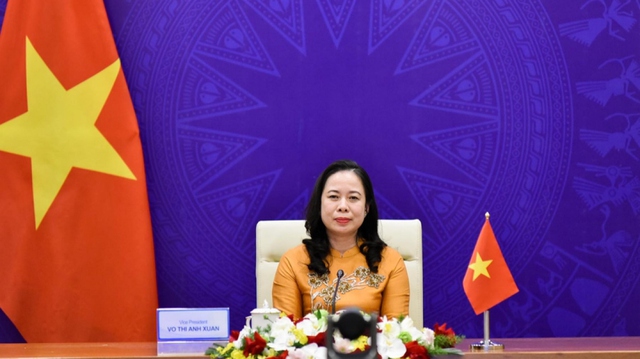 Convened by US-based Globewomen Research and Education Institute, the 2023 summit is expected to bring together 800 delegates from 70 economies to engage in active cross-border networking, robust best practice exchanges, and inspiring presentations, with a focus on strategic and creative solutions to advance women's economic progress globally.
Themed "Women: Leading a New Climate of Change" the summit will highlight how women are utilizing innovative strategies and technologies to advance women's economic opportunities and to address challenges faced by society at large.
The Vice President of Viet Nam is scheduled to deliver a speech at the opening ceremony of the global gathering which is due to take place on May 4-6 with various sessions and activities.
The Vietnamese delegation's engagement in the summit demonstrates the country's policies, efforts as well as outstanding achievements in ensuring gender equality and women empowerment, according to Vietnamese Ambassador to the UAE Nguyen Manh Tuan.
Their participation is to highlight Vietnamese women's positive contributions to national development and international integration, share international experiences, promote relations, build networks with female leaders, and strengthen connections between Vietnamese businesswomen and international female entrepreneurs, said Tuan in an interview granted to the Vietnamese media.
Xuan in her speech will propose a number of initiatives to promote women's role in solving global problems as well as domestic issues in each country.
The message the Vietnamese delegation will deliver to the summit is, according to the ambassador, to affirm women's important role and contributions to post-pandemic economic recovery, acknowledge women's efforts in accelerating innovation, and promote gender equality and women empowerment in society.
After the summit, Vice President Vo Thi Anh Xuan will pay an working trip to the UAE and Qatar./.