USAID and KOICA join hands to help Viet Nam cope with climate change
VGP - Representatives of the USAID and KOICA signed the first cooperative Memorandum of Understanding (MOU) to support Viet Nam to reduce pollution, mitigate climate change in the Mekong Delta, and accelerate the transition to clean energy, at a ceremony in Ha Noi on June 8.
June 08, 2022 4:59 PM GMT+7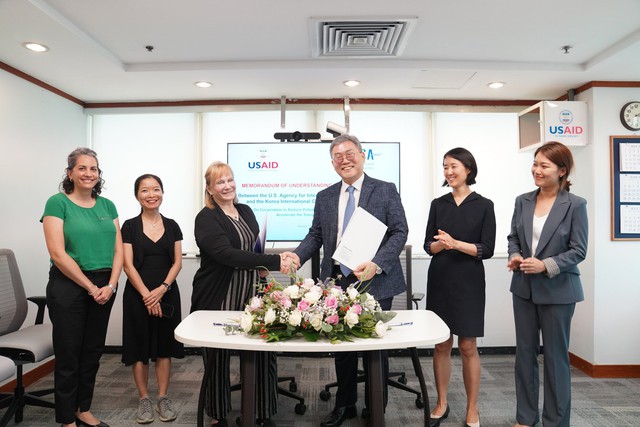 The MoU was signed by USAID Viet Nam Mission Director Ann Marie Yastishock and Country Director of the Korean International Cooperation Agency (KOICA) Cho Han Deog.
Both USAID and KOICA agreed to boost the efficiency of their programs and achieve better measurable outcomes for the people of Viet Nam.
The two agencies were unanimous in pursuing shared development goals, including reducing plastic and other types of pollution and improving solid waste management, enhancing biodiversity, mitigating emissions from the agricultural sector; increasing adaptation strategies of vulnerable populations in the Mekong Delta.
In addition, they will cooperate to accelerate renewable energy development and deployment at both central and urban levels.
"The U.S. is committed to cooperating with global partners to collectively address the climate crisis," said Mission Director Yastishock at the signing ceremony.
We are pleased to cooperate with KOICA to deliver on our shared goal with Viet Nam of an environmentally resilient future, the USAID Director added.
KOICA is putting environment and climate action at the center of its development cooperation. I believe that we could be more effective in our efforts to save our planet by working together rather than by working alone," said KOICA Country Director Cho Han Deog.
The Mekong Delta region, known as the rice bowl of Viet Nam, is now under serious attack from climate change and heavy salt intrusion.
It is estimated that 40% of the Mekong Delta would be submerged by the year 2100 in which 55% of the local population will be directly affected, said UNDP Resident Representative in Viet Nam Caitlin Wiesen.
Viet Nam is leading the transition to clean energy in South-East Asia, according to an article published recently on The Economist.
Viet Nam had become the world's tenth-biggest producer of solar power last year and recalled that while underlining Viet Nam's commitment to the energy transition, Prime Minister Pham Minh Chinh vowed in November last year to stop building new coal-fired power plants and to reduce Viet Nam's emissions to net zero by 2050.
Since 2010, USAID has provided assistance to Viet Nam's environment and energy sector. The agency is currently implementing 11 environment and energy projects in Viet Nam, with a total combined value of over US$160 million.
Meanwhile, KOICA is committed to tackling climate change and promoting green growth. KOICA is trying to solve these problems through cooperation with various partners including academia, startups and private businesses./.