U.S. to support Viet Nam's billion-dollar rice project
VGP - The U.S. is committed to sharing information and best farming practices to help Viet Nam adapt to climate change, U.S. Secretary of Agriculture Thomas Vilsack told reporters in Ha Noi on Wednesday.
April 20, 2023 11:01 AM GMT+7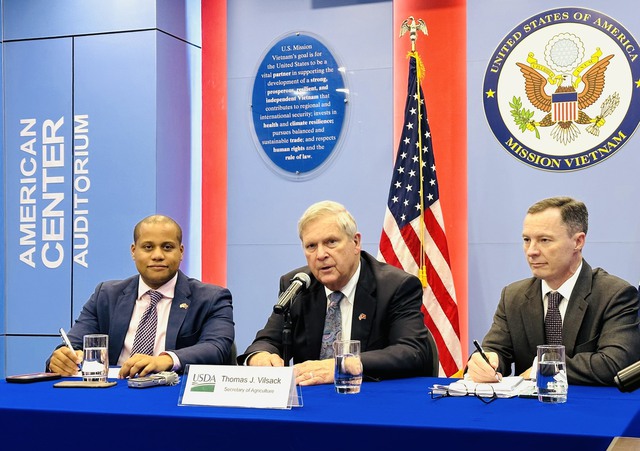 The U.S. and Viet Nam share a common vision on agriculture that adapts to climate change and global food security, he added.
According to Thomas Vilsack, the U.S. would also promote a program to use appropriate fertilizers to both increase productivity and ensure green growth.
This initiative specializes in supporting American farmers, but there are also some very suitable projects to share and apply in Viet Nam, he said, adding that for example, a project to reduce emissions in rice production is currently being implemented in the U.S.
The Ministry of Agriculture and Rural Development has launched a project of 1 million hectares of high-quality rice and reduced emissions by 2030. It is expected that Viet Nam would need to invest at least VND40,000 billion (equivalent to US$1.7 billion) for this goal.
The U.S. Secretary of Agriculture affirmed that the U.S. would provide some form of financial support to Viet Nam's project through a program to use fertilizers efficiently and sustainably.
The two sides would also continue to exchange farming experiences through learning programs between American and Vietnamese experts.
When asked about Viet Nam's role in ensuring food security, Vilsack pointed out the fact that Viet Nam is a leading rice producer in the world.
Given challenges of climate change, Viet Nam would need to create food with less land, less water and less energy, thereby reaching its net zero emissions target by 2050.