U.S. tech giant HP plans to shift laptop production to Viet Nam: Nikkei Asia
VGP - Hewlett Packard (HP), the U.S. manufacturer of software and computer services, is planning to shift some laptop production to Viet Nam, starting next year, said Nikkei Asia in its article.
July 20, 2023 10:19 PM GMT+7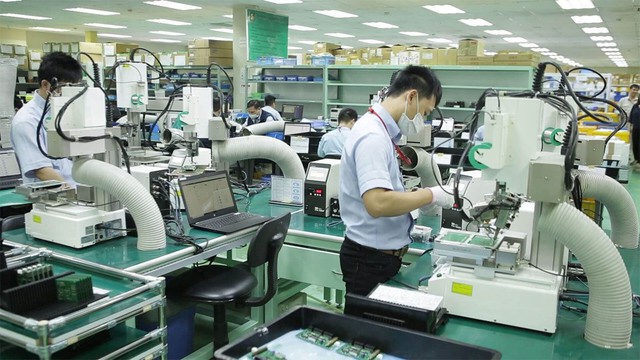 According to Nikkei Asia, Dell, which launched its diversification plan much earlier than HP, will make at least 20 percent of all of its laptops in Viet Nam this year, people with direct knowledge told Nikkei.
Apple, meanwhile, began making MacBooks in Viet Nam this year, the first time its laptops were made outside China, fulfilling plans that Nikkei reported on late last year.
HP's move would further help Viet Nam build up a supply chain ecosystem for PCs, making Southeast Asia an even more attractive option for computer makers looking for production options outside China, amid geopolitical uncertainties, the article highlighted.
The primary purpose of supply chain diversification is to take advantage of emerging production hubs in Viet Nam and other Southeast Asian countries, said Kieren Jessop, an analyst with Canalys.
Earlier, website asiapropertyawards.com noted that Viet Nam has become an attractive destination for foreign investors, driving its economic growth amid global uncertainties.
The WTO–FTA portal noted how the European Chamber of Commerce in Viet Nam highlighted the country's stable macroeconomic environment and controlled inflation as factors that make it appealing for foreign direct investment (FDI), along with the EU-Viet Nam Free Trade Agreement (EVFTA).
Viet Nam's favorable business environment, steady economic growth, improved infrastructure, and policy changes have contributed to its position as a top country for attracting foreign investment.
It has similarities to South Korea's investment environment, which has attracted attention from Korean businesses. Japan and Switzerland also consider Viet Nam a priority location for investment due to its strong economic growth, supply chain transformation, and investment attractiveness.
Standard Chartered Viet Nam's CEO Michele Wee emphasized Viet Nam's advantages in terms of labor, global trade integration, supply chains, political stability, and potential resources, with the government committed to promoting trade and sustainable growth.
The International Monetary Fund predicts a stronger recovery for developing economies like Viet Nam in the near future as global economic headwinds ease./.