U.S. supports independent, strong and prosperous Viet Nam
VGP – The U.S. supports an independent, strong and prosperous Viet Nam, said Secretary of State Antony Blinken.
May 14, 2022 5:22 AM GMT+7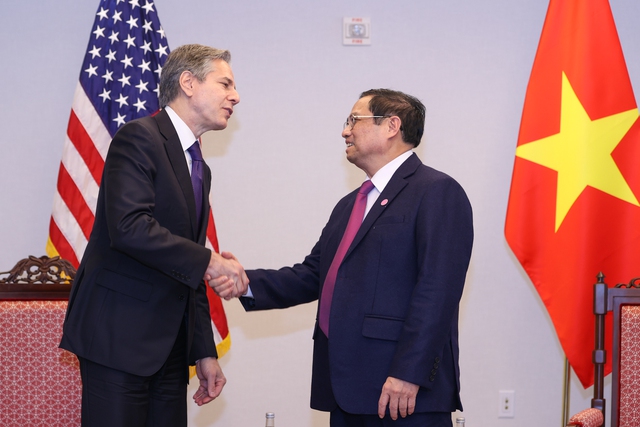 Blinken made the above statement during meeting with Vietnamese Prime Minister Pham Minh Chinh in Washington D.C., on May 13.

Blinken affirmed the U.S. will continue close cooperation with Viet Nam in handling the war consequences, considering it one of the top priorities in relations with Viet Nam.
He welcomed Viet Nam's commitment at the COP26, reiterating that his country will assist Viet Nam in realizing the commitment.
Pham congratulated the U.S. on good management of the COVID-19 pandemic to bring life back to normal and the organization of the Special ASEAN-U.S. Summit is a clear evidence.
He thanks the Government and people of the U.S. for having donated nearly 40 million dosses of COVID-19 vaccine to Viet Nam.
Regarding the bilateral ties, Pham affirmed that the U.S. is of Viet Nam's top partners and highly valued the U.S. support for an independent, strong and prosperous Viet Nam.
He applauded positive advancement in the bilateral relations over the past years, with the two-way trade reaching nearly US112 billion last year.
Comparing notes on regional and international isues of shared concerns, both Pham and Blinken underlined the importance of ensuring peace, freedom, security and safety of navigation and aviation in the East Sea, settling disputes through peaceful measures on the basis of international law, including the 1982 United Nations Convention on the Law of the Sea, contributing to peace, stability, cooperation and development in the region and the world./.