U.S. increases Vietnamese vegetable and fruit imports
VGP - The U.S. has become the second biggest importer of Vietnamese fruits and vegetables in the first half this year, official data showed.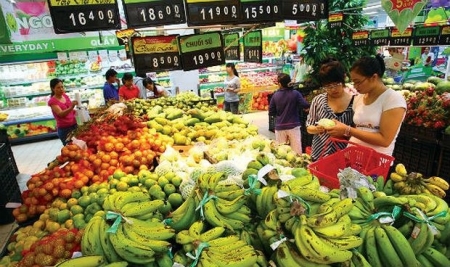 U.S. increases Vietnamese vegetable and fruit imports
According to statistics released by the General Department of Viet Nam Customs, the end of the second quarter of the year saw the country's fruit and vegetable exports to the U.S. enjoy a surge of 9.8% to US$77 million.
U.S. imported 302 tons of mango, guava, and mangosteen from Viet Nam worth US$850,000 during the opening five months of the year, representing a 1.8-fold increase on-year,
The Ministry of Industry and Trade (MoIT) said the increase indicates that these fruits are popular among U.S consumers, creating a wealth of opportunities for local firms to boost their exports of the fruits to this demanding in the coming time.
However, statistics show the amount of Vietnamese fruits exported to the U.S. remains rather small, making up just 0.1% of the country's total imports in the first five months of the year.
Meanwhile, June alone witnessed Vietnamese fruit and vegetable exports to foreign markets fall by 7.1% to US$257.3 million in comparison to May, resulting in the total export value during the first half of the year declining 13.6% to US$1.76 billion.
According to data compiled by the U.S. International Trade Administration, in 2019, the US imported nearly 200,000 tons of fruits, worth nearly US$ 170.0 million, including tamarind, apple, cashews, jackfruit, high quality lychee, sapodilla, passion fruit, star fruit, dragon fruit and other kinds of fruit, up 4.2% in volume but down 0.7% in value compared to the same period in 2018. The drop is attributed to the 4.7% fall of import prices (down to US$879 per tonne).
Viet Nam's dragon fruit exports to the U.S. increased twelve-fold, from 100 tons in 2008 (the first year Vietnam exported this fruit to the U.S.) to 1,200 tons in 2012.
Although Viet Nam's fruit exports to the U.S. have grown steadily, they accounted for a small percentage of that market's demand. The Agency of Foreign Trade said Vietnamese businesses have opportunities to increase fruit exports to the U.S./.
By Hoang Ha