U.S. Congress supports ASEAN-U.S. developing relations
VGP - Prime Minister Pham Minh Chinh and leaders of other ASEAN countries had a working lunch with Speaker of the U.S. House of Representatives Nancy Pelosi and U.S. lawmakers in Washington D.C., on May 12 (local times).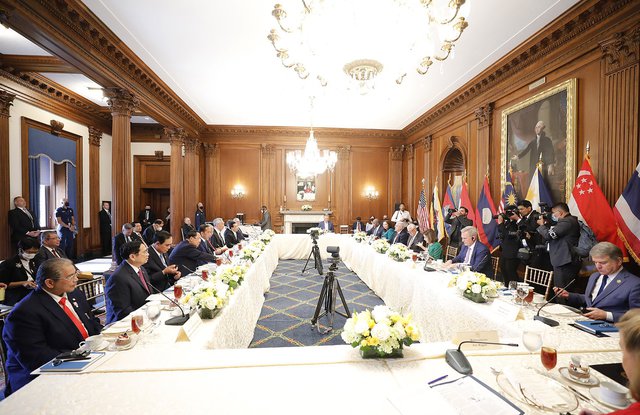 Trade, investment, people-to-people exchange, science-technology, renewable energy development, and the response to security challenges in the region and the world topped their agenda of discussion.
The American legislators affirmed their support for ASEAN centrality, pledging to work for the U.S. active, constructive and responsible engagement in the region.
They hope that the two sides would strengthen collaboration to promote dialogue and cooperation for the effective response and settlement of challenges and issues in the region, while lauding efforts to build a Code of Conduct in the East Sea (COC), contributing to maintaining and ensuring an environment of peace, security and stability in the region.

Addressing the event, PM Pham highly valued the companionship and support of the U.S. Congress, which has made an important contribution to the dynamic and strong development of the ASEAN-U.S. relationship over the past 45 years.
He took the occasion to thank the U.S. Congress and people for assisting the ASEAN, including Viet Nam, in containing the COVID-19 pandemic over the past two years.
The Vietnamese Government leader proposed more attention to be paid to cooperation programs for inclusive, equal and sustainable development, creating conditions for future generations to develop together.

The U.S. should work together with the ASEAN to narrow the development gap in the ASEAN region, especially to bring remote areas like those in the Mekong region into the common development flow of countries and the whole region, said Prime Minister Pham./.