UNWTO meeting in Hà Nội seeks tourism development strategies
VGP - Over 300 local and international tourism specialists attended the 22nd Joint Meeting of the World Tourism Organization's (UNWTO) Commissions for East Asia and the Pacific and for South Asia on May 11 in Hà Nội to discuss measures to foster tourism development in the region.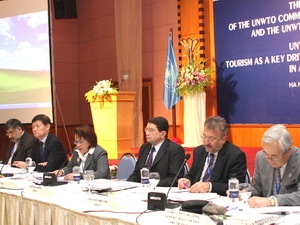 Over 300 local and international tourism specialists attend the 22nd Joint Meeting of the World Tourism Organization's Commission for Asia and the Pacific, Hà Nội, May 11, 2010 – Photo: VNA

Taleb Rifai, Secretary General of the UNWTO, expressed strong support and admire of the organization for Việt Nam, especially on the occasion of the 1,000th founding anniversary of Thăng Long-Hà Nội.

Delegates, including representatives of the UNWTO's Commissions, 26 national tourism bodies, international and non-governmental organizations, foreign diplomats in Việt Nam, and famous tourism training establishments in the region, focused on discussing and proposing measures and policies to develop the regional tourism sector in terms of travelling conditions for tourists, exit and entry procedures, and tourism labor movement.

The delegates also shared information about tourism sector in their countries, the region and in the world as well as proposed new cooperation programs in order to stimulate sustainable tourism development in the region, contributing to poverty reduction and consolidated relations, solidarity and understanding within the region.

On this occasion, the Việt Nam National Administration of Tourism will work with the UNWTO to launch some new cooperation programs. Accordingly, specialists of the UNWTO will hold conferences in Việt Nam to exchange experience of building tourist brand-names, research and comprehensively evaluate directions for tourism development at Việt Nam's potential destinations such as Ba Bể Lake, Thác Bà and the community tourism in the northern province of Hà Giang.

The organization will also consider recruiting Vietnamese tourism officials to work at its headquarters in Spain.

Việt Nam joined UNWTO in 1981. The organization has supported the country to implement a number of projects on planning, researching and developing tourist products, building tourism regulations, training human resources and improving capacity of the sector.